Intel's Sean Maloney, Executive Vice President of Sales and Marketing, delivered a keynote speech that officially unveiled what everyone in the industry had known some time ago.

He ushered in the era of Intel 4-series chipsets, composed of the new P45, P43, G45, and G43 variants, highlighting improved bandwidth and connectivity. In the case of the integrated graphics versions, he made mention of considerably better gaming performance and multimedia abilities, but somehow failed to mention that Intel hasn't delivered on DX10 drivers yet.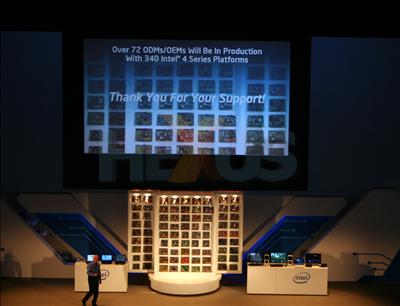 .


Intel's partners will deliver 340 4-series platforms, he said, and many were indeed on show, but, again, somehow, the fact that AMD 780G chipset had delivered much of the innovation first wasn't disseminated to the 1,000 folks present.

Atom took centre stage again, and Maloney was excited to reveal that the nascent nettop and netbook sectors have already begun to be populated by products from all the major manufacturers. We'd be pleased to see a bunch of Atom-powered MIDs turn up for reasonable money, really.

Maloney further noted that the Internet is fast-embracing high-definition. As such, it requires significant compute power and a suitably fast connection for the premium experience. Touching on the mobile subject, Centrino 2 was well on the way to launch, he quipped, and its advanced feature-set was the perfect candidate for leveraging the benefits of WiMAX technology: high-speed, go-anywhere connectivity - the combination enabling widespread enjoyment of all that the multimedia-rich Internet has to offer.

WiMAX may be soon becoming the de facto wireless standard for certain Far Eastern countries, but much of Europe paid an enormous amount for 3G licenses and we doubt that WiMAX will be deployed just yet.

Maloney also mentioned that Nehalem, Intel's next-generation microarchitecture, was well on track for production in Q4 2008, and reiterated the tick-tock model of process and core enhancements that Intel is pledged to deliver on a year-by-year basis.

Overall, the impression is that Intel's fingers-in-many-pies approach is working, and COMPUTEX 2008 was an opportune time to inform its partners that everything's just fine, for now.