A benchmark result purported to be from a PC packing an Intel Core i3-10100 processor has been spotted in the SiSoft Sandra official live ranker online. Twitter chip detective Tum Apisak found the new Comet Lake processor entry just ahead of the weekend.
Mr Apisak noted that, from the data base entry and benchmark runs, the Core i3-10100 appears to have 4-cores and 8-threads, runs at 3.6GHz clock, and comes packing 4x 256kB L2 and 6MB L3 caches.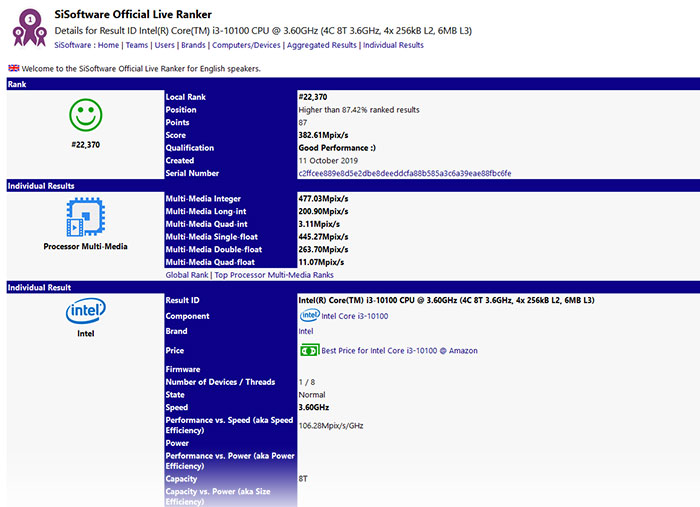 Compared to its 9th gen predecessors, the new Intel Core i3 improves on the offer with hyperthreading - and its 4C/8T configuration makes it comparable to a pricey Core i7 from a couple of years back.
The boost clocks aren't revealed in SiSoft Sandra but are expected to be in the region of 4.4GHz. Higher level i3 chips will offer improved clock speeds and possibly larger caches too.
TechPowerUp notes that the Comet Lake i3 chip's overall score of 382.61MPix/s in multimedia tests is "a significant step up from the roughly 290MPix/s of the i3-9100," over 30 per cent faster in fact. It goes on to inform that the Intel Core i3-10100 will be released and sold at around the $120 mark, competing against AMD's Ryzen 3 3200G.
Comet Lake chips are expected to officially debut early next year. As you can see, the Core i3 packs 4C/8T, and the i5 chips are expected to have 6C/12T, the i7 chips 8C/16T, and at the top end of the consumer space, Core i9s will come with 10C/20T.