Over in China, where trade tariffs, restrictions and political moves by the USA are kindling the need for more home-grown or open source computer components, an Alibaba subsidiary called Pingtouge Semiconductor has announced the Xuantie 91 processor. The new Xuantie 91 targets infrastructure for artificial intelligence (AI), 5G, and internet of things (IoT) as well as autonomous vehicles, and is based upon the RISC-V open source CPU architecture.
According to a report published by New Electronics, the 16-core Xuantie 91 processor is built on the 12nm process. Running at 2.5GHz, it is claimed to be 40 per cent more powerful than any other RISC-V processor produced to date. The specific metric quoted to demonstrate its superiority is a 7.1 Coremark/MHz. The previous RISC-V champ (with a score of 5.1 Coremark/MHz) was the SiFive U74.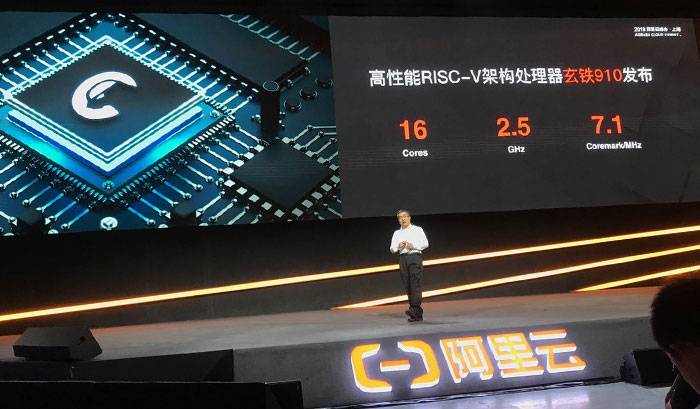 The Xuantie 910's performance leap has been achieved thanks to two innovations. First of all Pingtouge has implemented a 12-stage out-of-order operation pipeline core, enabling up to eight instructions to be loaded in each cycle. "These can form clusters of four, and up to four clusters are possible per chip as it currently stands, which enables a 16-core chip," explains New Electonics. Secondly the Xuantie 910 includes 50 extended instructions to enhance various arithmetic operations, memory access, and multi-core capabilities. As this is an open source project it is working on, Pingtouge plans to release its tweaked code via GitHub in September.
The above move by Alibaba may well help China get up to speed with its stated intention of 40 per cent of processor demand being met by local suppliers by 2021 (last year it achieved just 15 per cent).