Intel has rolled out its Pentium Gold G5620 processor to retailers. Tech site AnandTech noticed the headlining new budget processor has started to appear at retailers in Europe, alongside other new Pentiums and Celerons, and expects there to be a formal announcement soon. Below is a chart, via the source, showing off the new PC processor market entrants.
Cores/
Threads

Frequency

L3 Cache

iGPU

TDP

PN

Pentium Gold G5620

2/4

4.0GHz

3MB?

UHD 630

65W

BX80684G5620

Pentium Gold G5420

3.8GHz

BX80684G5420

Pentium Gold G5600T

3.3GHz

UHD 610

35W

?

Pentium Gold G5420T

3.2GHz

?

Celeron G4950

2/2

3.3GHz

2MB?

65W

BX80684G4950

Celeron G4930

3.2GHz

BX80684G4930

Celeron G4930T

3.0GHz

35W

?
Our headline today brings your attention to the Intel Pentium Gold G5620 because it is the first Pentium-branded CPU with a default clcok of 4.0GHz or faster. Checking the chart above, you can see that it is a dual-core processor with four threads, UHD 630 graphics, and a 65W TDP, It is thought to come packing 3MB of L3 cache. Other new Pentiums all offer the same 2C/4T configuration but as clock speeds are reduced so are the iGPU capabilities (UHD 610). Those running at 3.3GHz or less (with a T suffix) have the benefit of a reduced 35W TDP.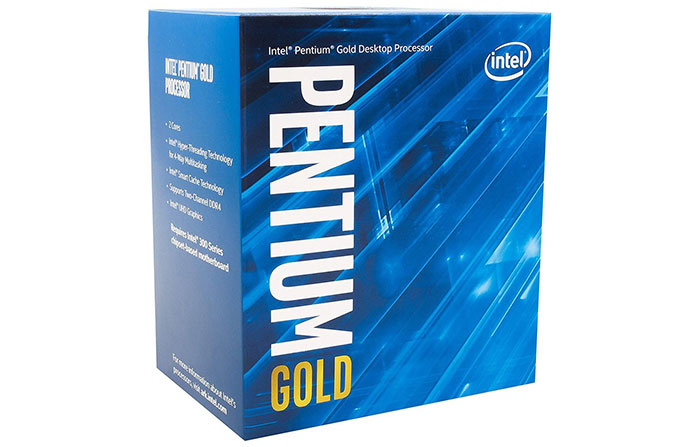 GraFics not required
As the multiple mainland European sources appear to confirm a septet of new budget Intel CPUs, it looks like one got away from their listings. UK retailer Kikatek has listed a new Pentium G5600F (Model: CM8068403377516) as 'pending' in its catalogue. This is another 2C/4T processor but this time it offers a clock speed of 3.9GHz.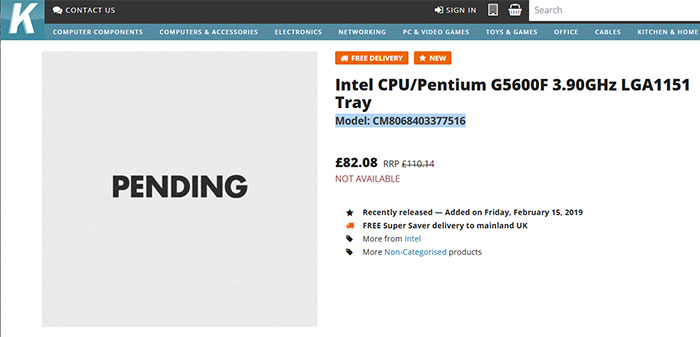 Tom's Hardware spotted the Kikatek listing and reckons that the Pentium G5600F will come with the same specs as the existing Pentium Gold G5600 - sans graphics. That is how the 'F' suffix usually works. If that theory pans-out it will be a 54W TDP chip with 4MB of L3 cache.
Buyers might be disappointed that the integrated graphics-less chips are usually not any cheaper than their closest UHD relatives. However, they have had the attractive quality of actually being available at retail during Intel's ongoing 14nm processor shortage, notes TH.
Intel hasn't added the Pentium G5600F to the Ark, nor will you find details of any of the other seven Pentiums and Celerons, at the time of writing. It is hoped they will be Coffee Lake Refresh architecture parts with Meltdown and Spectre hardware mitigations.