Earlier we rounded up the soon to be available new 9th gen desktop CPUs announced by Intel yesterday evening. Now it's time to look forward to what's in store for later in the year, and/or beyond. In its presentation Intel briefly discussed the likes of 10nm Ice Lake processors, hybrid 10nm Lakefield CPUs, and Project Athena laptops, as well as other non-PC-centric specific stuff like automotive, IoT, sports, AI, networking and 5G, etc.
10nm Ice Lake
Ice Lake is the code name for Intel's first volume 10nm PC processor family. The processors will deliver a new level of integration and be based upon the Sunny Cove architecture (previously unveiled at the recent Intel Architecture Day).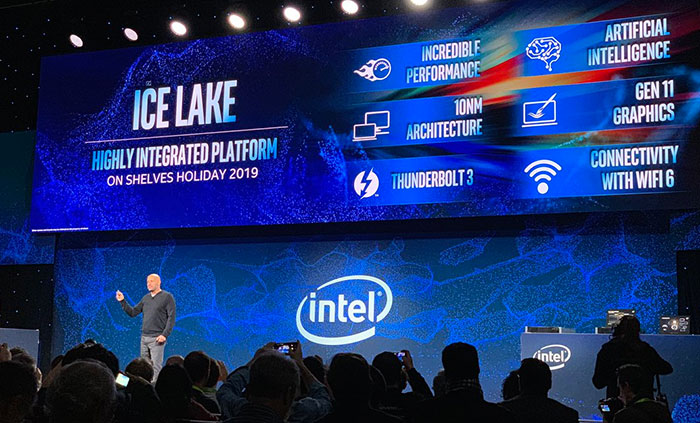 Other aspects of Ice Lake it is worth highlighting are its Intel DL Boost instruction sets to accelerate AI workloads, and the integrated Intel Gen11 graphics to improve graphics performance (>1TFLOP) and support Adaptive Sync (FreeSync). The platform integrates Thunderbolt 3 and the new high-speed Wi-Fi 6 wireless standard. Ice Lake device battery life will be stellar, according to Intel, and prospective buyers will also benefit from super-thin, ultra-mobile designs with excellent responsiveness.
The first Ice Lake products are going to be laptops and similar and they will become available in OEM partner devices in time for Xmas this year, Intel hopes.
10nm Lakefield
Lakefield is a new 10nm client platform from Intel that features a hybrid CPU leveraging Intel's Foveros 3D packaging technology. Foveros was also talked about last month at the Architecture Day, but to recap it combines high-performance, high-density and low-power silicon process technologies in a 3D packaged chip.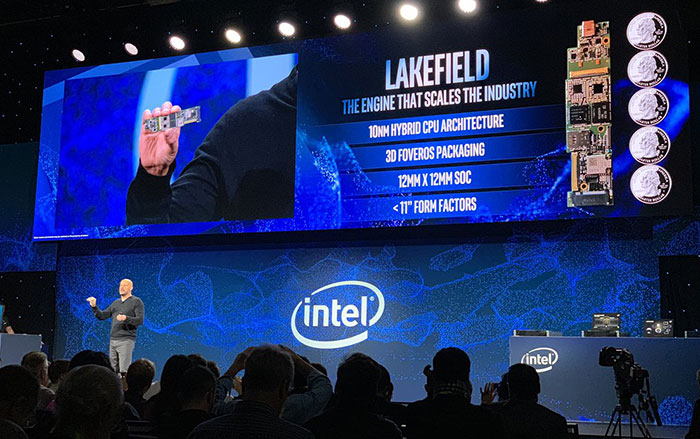 In the first Lakefield chip there is a 'big CPU' plus four 'small CPUs'. Specifically at CES 2019, Intel said that the high performance CPU core would be a Sunny Cove core, with four Intel Atom processor-based cores working as the 'small CPUs'. Also on chip we have graphics and other IPs, I/O and memory.

Intel showed off a tiny motherboard featuring this tech, as pictured directly above. Again it is a great choice for thin and light devices with long battery life and modern connectivity. Lakefield devices are expected to debut later this year and would naturally fit in the portable device product range somewhere below Intel Ice Lake portables.
Project Athena laptops
Lastly, but likely to be seen before the two platforms mentioned above (estimated H2 2019), Intel talked about its Project Athena laptop plans. To me it sounds like an outline for Ultrabook Mk2 - but updated on a yearly basis. Intel shared the following bullet points to describe its new program which will push the adoption of 5G and AI technologies in its first year.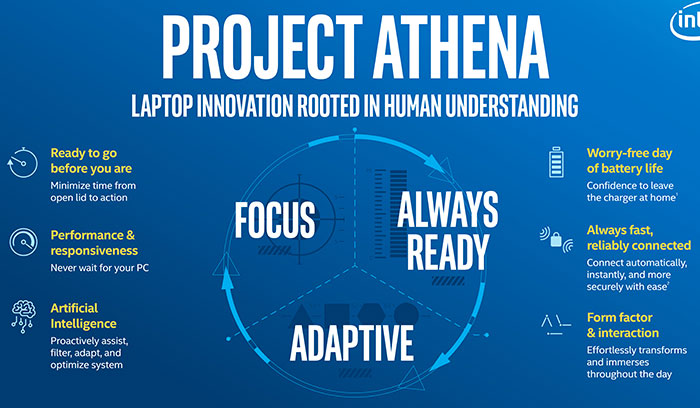 An annual spec outlining platform requirements
New user experience and benchmarking targets defined by real-world usage models
Extensive co-engineering support and innovation pathfinding
Ecosystem collaboration to accelerate key laptop component development and availability
Verification of Project Athena devices through a comprehensive certification process
Though it's a bit vague, and perhaps just an exercise in branding to combat AMD mobile, Intel has ready-and-willing big-name sign-ups including Acer, Asus, Dell, Google, HP, Innolux, Lenovo, Microsoft, Samsung and Sharp.