There has recently been Twitter talk of Intel expanding its 9th generation Intel Core processor lineup with up to six new chips - sans iGPUs. Now, four such parts have broken cover. Major Norwegian and Finnish computer hardware retailers have listed four unannounced 9th gen parts, all furnished with an 'F' suffix.
Tom's Hardware has shared a screenshot taken from one of the aforementioned sites, in which you can see the Intel Core i9-9900KF, i7-9700KF, i5-9600KF, i5-9400F listed alongside their SKU reference and tray pricing. You will note that these processors are very similar in name to existing models. However, the big change is with the addition of the 'F' suffix. The generally accepted wisdom is that the 'F' suffix denotes a processor which doesn't have integrated graphics at its disposal. Within the processors listed, the integrated Intel UHD Graphics 630 (GT2) iGPU will be either absent or disabled.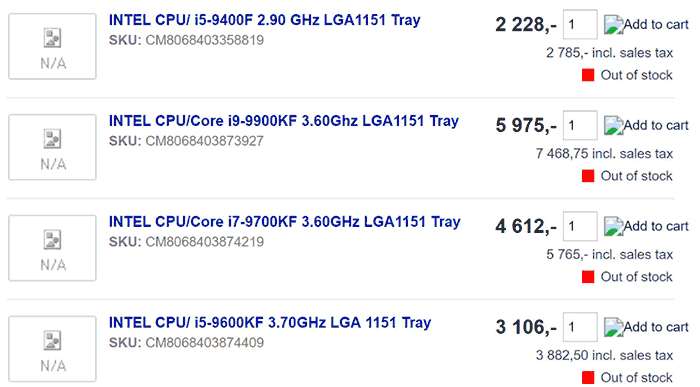 Most consumer Intel processors come packing an iGPU but many use these mid-to-higher end desktop chips with discrete graphics cards. It is possible that some of the above listed 'F' CPUs will be able to run a little faster (or be overclocked more, except for the non 'K' i5-9400F) than their regular counterparts, as they won't be using the iGPU and it won't be contributing to the thermal load. As Tom's Hardware points out, the disabled iGPU can act as dark silicon, "which is unused silicon that absorbs heat from surrounding chip structures". Furthermore, for Intel, these CPUs can be created from those parts that were checked and had iGPU defects - a great way to make money from what would otherwise be waste.
Tray prices shown by the retailers which are 'out of stock' are likely placeholders and not really indicative of street pricing, admits the source. Nevertheless, roughly translated to USD the prices indicated are as follows; Intel Core i9-9900KF ($510 to $680), i7-9700KF ($530), i5-9600KF ($180 to $350), i5-9400F ($250).
Checking the non-'F' processors currently available on Amazon US, the Core i9-9900K can be had for $540, the i7-9700K can be had for $399, and the i5-9600K for $360.