Intel has launched its 8th generation Core U- and Y-Series mobile processors for ultra-low and extremely-low power devices, respectively. There were six processors introduced in-all tonight, three for each family, ranging from 4C/8T parts with 15W TDP at the top end of the U-Series to 2C/4T parts with 5W TDP for the Y-Series.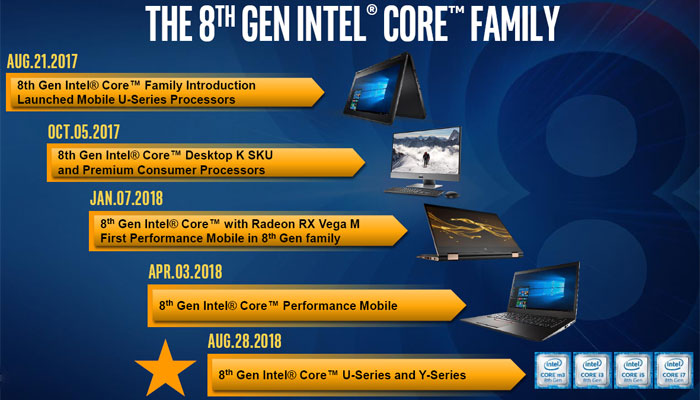 The Intel 8th gen Core U-Series was formerly known as Whiskey Lake (WHL), and the Y-Series was codenamed Amber Lake (AML). Whichever you choose, Intel says they build on the success of the 8th gen Intel Core architecture and deliver the best experiences so far in mobile, ultra-mobile, connected, and innovative form factor PCs.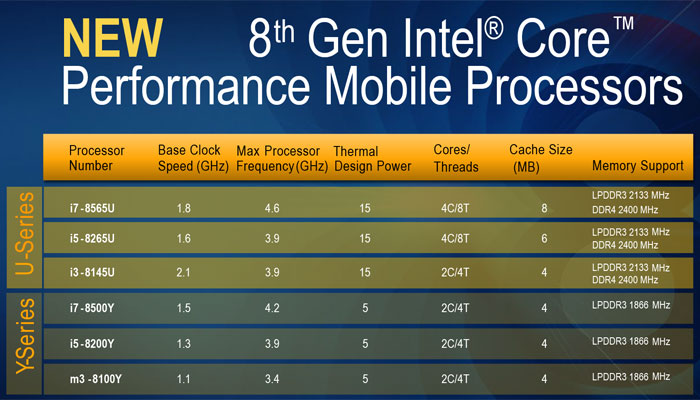 In our pre-launch communications we received the basic technical specs (see above), and saw no direct comparisons against the previous generation Core U- and Y-Series parts. Instead, Intel wanted to show how much better these new processors were than a reference 5-year-old PC system. All its comparisons use the Toshiba Satellite S50 laptop as a reference and this 15.6-inch HD screen equipped machine came packing a 22nm 2C/4T Intel Core i5-4200U (Haswell 15W) processor, backed up by 4GB of RAM, a 512GB Intel 545S SSD, a Qualcomm AR 956X Wi-Fi, and Windows 10 Pro.
Intel focussed upon how much better the new systems could perform in content consumption, video gaming, and content creation. In the three slides below you can see the respective claims for each of these activities - versus the above specced five year old PC.
In summary, Intel claims that the new Whiskey Lake systems can perform up to 2x faster overall, and offer up to 10.5X video transcoding speed, up to 1.8x better web performance, with up to 12x faster Wi-Fi, and deliver up to 16+ hours of battery life. The reference system representing the Intel 8th gen processor mobile PCs featured a 4C/8T Intel Core i7-8565U Processor (15W TDP) with Turbo up to 4.6GHz and Intel UHD Graphics 620, 2x8GB DDR4-2400MHz memory, an Intel 760p SSD, plus Windows 10.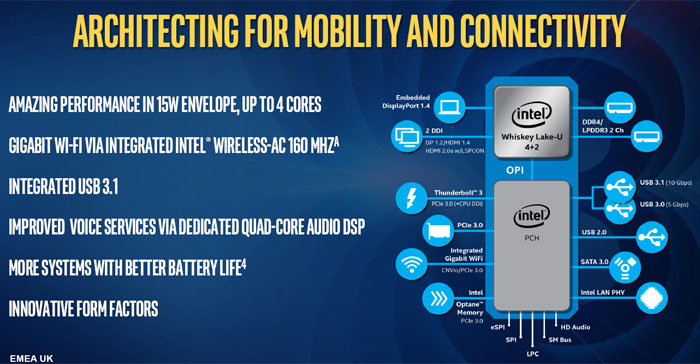 It isn't all speed and efficiency gains. As you can see in the above architecture slide Intel leverages modern technologies with these latest mobile processors, specifically; modern display connectivity so you can watch Netflix in 4K (for example), fast RAM, Thunderbolt 3, PCIe 3.0, Intel Optane, integrated USB 31, Wireless-AC 160MHz, and improved voice services thanks to a dedicated DSP.
Intel's 8th gen designs have thus far gained over 400 partner designs available in the market at the time of writing. Intel hopes the new 8th gen Core U- and Y-Series mobile processors will significantly add to this number.