Earlier in the week there was some controversy over a clause introduced by Intel, inserted into the license governing its CPU microcode updates. In brief, the end-user license agreement, distributed with the security updates, forbade "software benchmark or comparison test results" from being published. However, yesterday afternoon Intel relented and published a new licensing agreement with this clause simply removed.
For reference, I've quoted the controversial part of the agreement below, as by checking the link above it will no longer be found. Paul Alcorn at Tom's Hardware saved this text from the microcode update license file before it was updated.
"Unless expressly permitted under the Agreement, You will not, and will not allow any third party to (i) use, copy, distribute, sell or offer to sell the Software or associated documentation; (iii) use or make the Software available for the use or benefit of third parties; or (iv) use the Software on Your products other than those that include the Intel hardware product(s), platform(s), or software identified in the Software; or (v) publish or provide any Software benchmark or comparison test results."
This past year there have been several industry quaking CPU security vulnerabilities in the news, most notably Spectre and Meltdown. If this news alone wasn't enough, those who are lucky enough to receive security updates because their PC/motherboard is new enough, have had to suffer patches that introduce processing overhead, or reduce modern CPU processing speed advantages.
Most recently, mitigations for the most recently publicised flaw in Intel processors, the L1 Terminal Fault can have significant impact, depending on your workload. Patches for this vulnerability have been shown have little if any impact in most client PC tasks as covered by SYSmark 2014SE but in some data centre workloads Intel admits there can be as much as 31 per cent performance loss when using virtualised environments (SPECvirt_sc2013).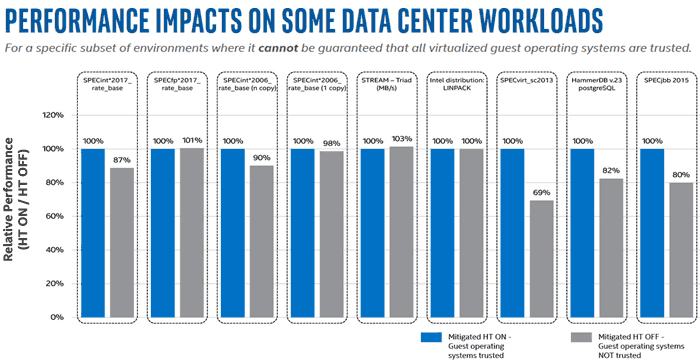 To sum up, it is troubling that Intel decided to insert these restrictions in the licensing agreement - but heartening that it acted quite quickly to remove the restrictions that were complained about by users, and by user groups like the Debian developer community.