Intel has announced its new Xeon E-2100 processor family. There are ten of these new Coffee Lake processors listed in the Intel Ark and they sport either 4C/8T or 6T/12T. The new Xeon range is said to deliver an up to 1.36X performance improvement over the previous generation. In other headline claims Intel says that new entry level workstation users can enjoy up to 4.7GHz turbo speeds, in machines employing up to 64GB of DDR4 2666 RAM.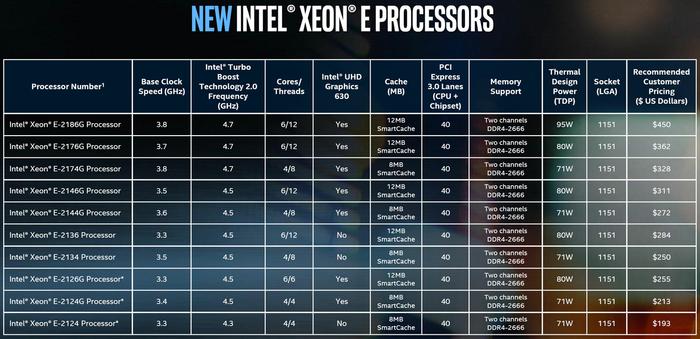 click to zoom
Despite the extra cores delivered by the Coffee Lake generation, Intel highlights the "powerful single-threaded application performance" of the new Xeon E-2100 series. "The combination of two additional cores and higher single-core turbo frequency delivers increases in performance across workstation benchmarks as compared with previous 4-core entry workstation processors," writes Intel. And of course, these new Xeons support ECC RAM, a requirement of some professional users for data integrity and stability.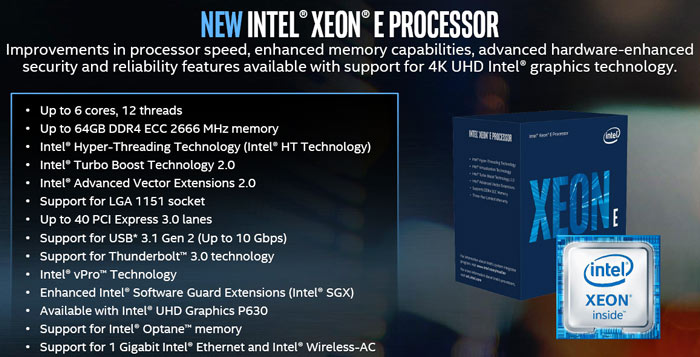 Highlights of the new Xeon E-2100 series are tabulated above in Intel's official slide. Below you can see processor and chipset features common to the series.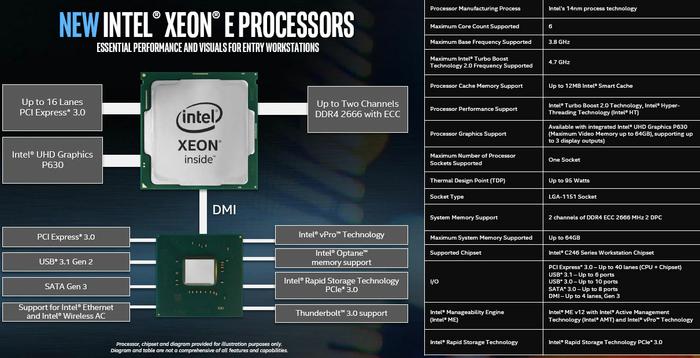 click to zoom
Above you will see that the majority of these processors have a 'G' suffix. This shouldn't be confused with the AMD Radeon packing Kaby Lake-G range, the new Xeons with the 'G' suffix come packing UHD Graphics P630, those without have no IGP enabled.
You will start to see the Intel Xeon E-2100 processor family become available shortly. The processors are compatible with the Intel C246 chipset. Meanwhile OEM systems from Dell, HP, and Lenovo should be coming soon. Actually, a few minutes ago I got an email from Dell about its new Dell Precision entry-level workstations, claimed to deliver powerful performance with a smaller footprint. Dell has launched "the world's most powerful 1U rack workstation", and new entry level Precision workstation towers like the 3430, 3630 and 5820.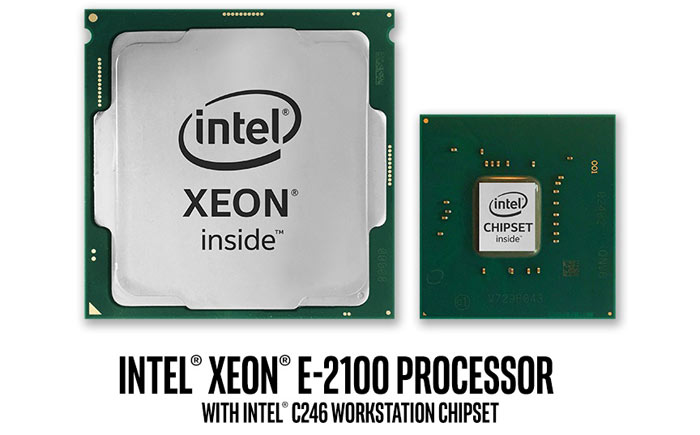 You can find the list and compare new Xeon E-2100 processors via Intel's Ark database.