Intel released its Q1 2018 financial results yesterday evening. In the press release and accompanying PDF report we can see the company has achieved great success in the last three months, with record revenue, and strong data-centric growth. It even raised its full year revenue and earnings outlook based on these results. However, there was a fly in the ointment put in the spotlight during the conference call, as the CEO admitted 10nm chips won't ship in volume until 2019.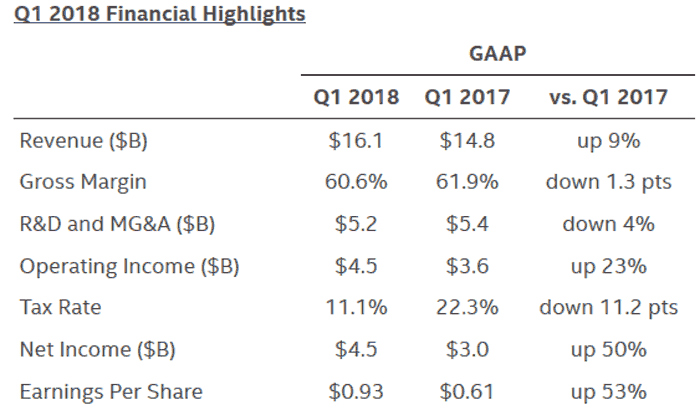 Looking at the core of the financial results first, Intel brought in $16.1bn in Q1 2018. That figure represents a 9 per cent uplift compared to the same quarter last year. Margins were down a little but operating income grew impressively by 23 per cent, with net income and earnings per share up 50 per cent or more. In addition, during the first quarter Intel paid dividends of $1.4 billion and used $1.9 billion to repurchase 41 million shares of stock.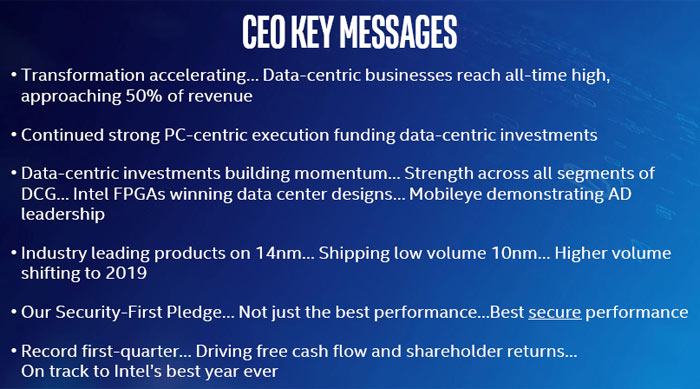 Intel has (very nearly) achieved the goal of generating half of its revenue via data-centric businesses. In Q1 2018 it saw data-centric businesses accounted for 49 per cent of its revenue, an all-time high. Highlights were the increasing adoption of Intel Xeon Scalable processors, strong demand for its storage products, server OEMs adding Intel FPGA acceleration, and IoT business growth from retail and video customers.
The Client Computing Group, the bit most PC enthusiasts are interested in, introduced a new mobile lineup during Q1 which included the 8th Gen Intel Core i9 processor and a new Intel Core platform extension that brings together the benefits of 8th Gen Intel Core processors with Intel Optane memory. In the results main section Intel said that it continues to make 14nm process optimisations and architectural innovations. It added that it is currently shipping low-volume 10nm product, and now expects 10nm volume production to shift to 2019 (discussion of this ramp-up delay would come in the conference call).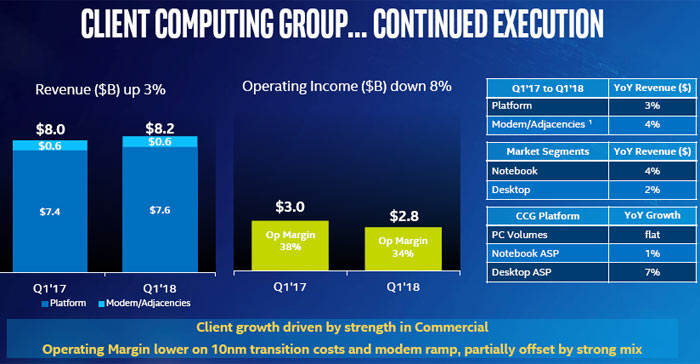 10nm volume delay, and 14nm Whiskey Lake
Intel previously teased large scale release of 10nm chips for this year but in the conference call the company CFO admitted that Intel had "bit off a little too much in this case". Investors are worried about the schedule slip as Samsung is already making 10nm chips for Intel rivals such as Qualcomm.
CEO Brian Krzanich stepped up to offer reassurances during the call. The company is shipping 10nm product now, he said. "There is nothing wrong with the design library. If there were basic functionality issues, you wouldn't be able to ship a product," Krzanich explained.
Now it appears that Cannon Lake 10nm chips will roll out for the data centre this year but Intel will "continue to take advantage of 14-nanometer" with a new product code-named Whiskey Lake this year. Not Whisky Loch.