According to new Intel roadmaps leaked online, Intel is readying a new wave of processors that would include hexa-core parts for laptops. Other slides reveal that Coffee Lake-E and Cascade Lake-SP processors are on their way. The slides have made their way onto the net via German tech site ComputerBase. Advance warning: some of the slides are quite hard to read, even though I have embedded some here full sized (click to zoom).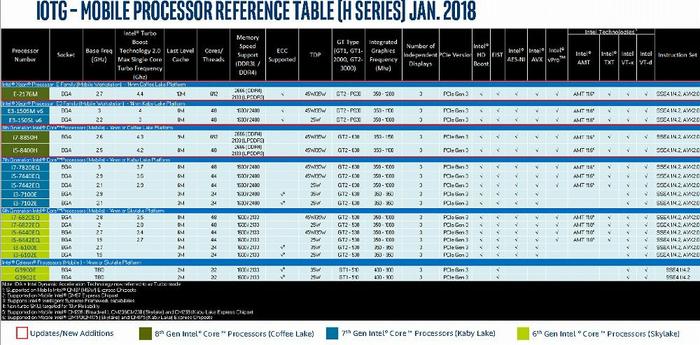 Mobile processors
Considering the new mobile processors first, Intel is readying the Core i7-8850H with base/boost 2.6/4.3GHz, and the Core i5-8400H with base/boost 2.5/4.2GHz. Both of these are parts are configured with Hyperthreading and destined for laptops in Q2 2018. The new i7 is a 6C/12T chip, while the i5 is a 4C/8T chip.
Another processor highlighted as a new entrant on the chart is for mobile workstations. The Intel Xeon E-2176M with base/boost 2.7/4.4GHz and 6C/12T configuration.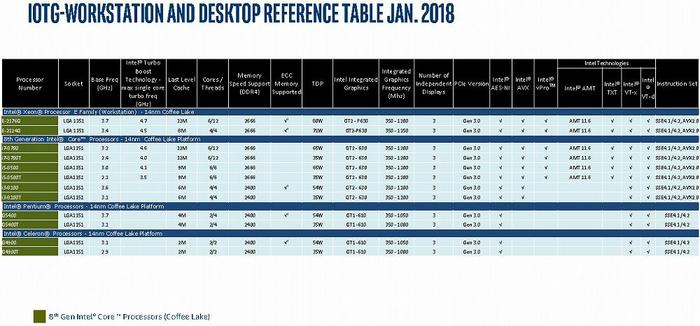 Workstation and Desktop processors
In the next chart we can see a pair of new Xeon Coffe Lake-E processors with 6- and 4-cores, both with hyperthreading available. Moving down the chart you will observe some new 'T'; suffix chips added to the lineup of 8th gen Intel Core processors. The Core i7-8700T, Core i5-8500T, and Core i3-8100T are energy efficient parts based upon their brethren. Each of these has a 35W TDP (rather than 65W) by implementing tweaked (slower) base and turbo clock speeds. These 'T' processors are due around April.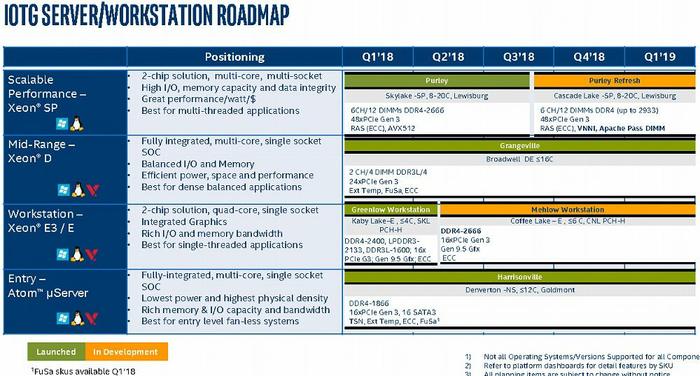 Cascade Lake-SP
The last slide I've reproduced from the ten published by ComputerBase, shows the timing for the release of the Purley Refresh, AKA Cascade Lake-SP. In the chart it looks like these processors will arrive at the beginning of Q3. However the source says that the footnotes signal that the launch window of the Cascade Lake-SP and Cascade Lake-X desktop offshoot is H2 2018. Another possibility is that these 'Cascade' family processors will fail to launch this year as the associated memory tech, 'Apache Pass' may not materialise until the following year.