Intel launched its first Xeon D SoCs nearly two years ago in order to provide competition to ARM-based servers targeting edge applications. The new Intel Xeon D-2100 processor family, announced yesterday, seeks to push Intel adoption further in network edge workloads which would benefit from greater processing power. Intel expects the new processor family to be used in cloud servers, network and enterprise storage, and 'QuickAssist Technology' support for power efficient VPNs, encryption and so on.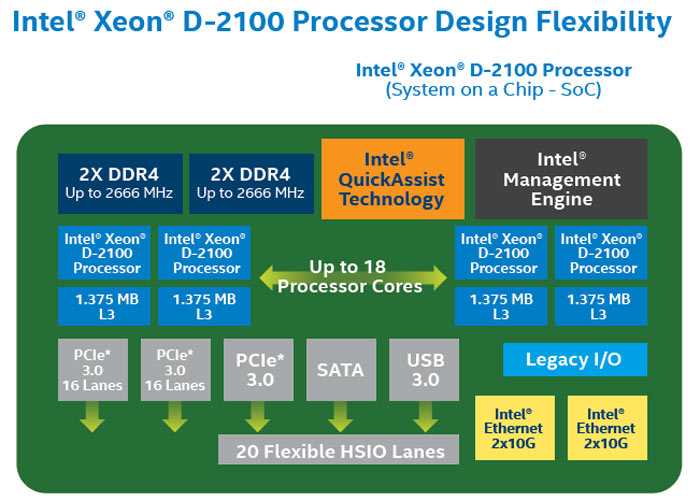 "The Intel Xeon D-2100 processor allows service providers and enterprises to deliver the maximum amount of compute intelligence at the edge or web tier while expending the least power," said Sandra Rivera, SVP and GM of the Network Platforms Group at Intel. As edge applications are demanding more compute, analytics and data protection closer to endpoint devices, the Xeon D-2100 processor family havae been released to add support.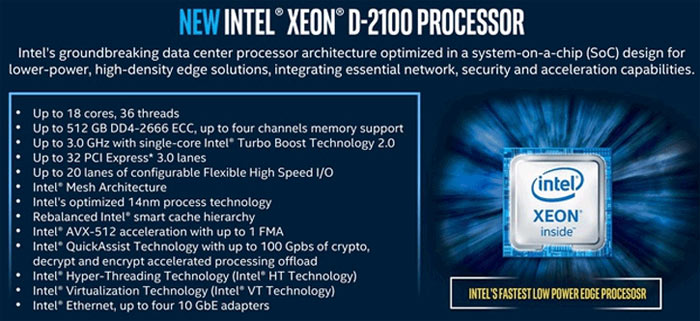 Intel's Xeon D-2100 processor family consists (PDF) of 14 SKUs, as tabulated below. These SoCs come packing up to 18 cores (and 36 threads). They can support up to 512GB DDR4-266 ECC RAM, run at up to 3.0GHz, support up to 32 PCI Express 3.0 lanes, and utilise Intel Mesh Architecture. We are assured that the new processors will be protected by Meltdown and Spectre vulnerabilities via system software updates.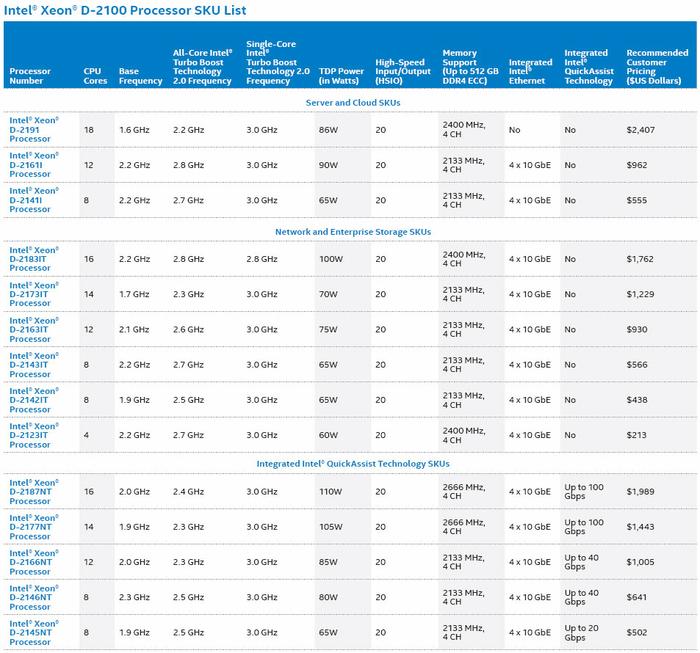 click to zoom table
As BGA packaged processors, system integrators will need to create usable servers and devices for their customers. Supermicro has already added several new additions to its edge computing and network appliance portfolio based on the new Intel Xeon D-2100 SoC family. You can see and read more about these products here. Furthermore, ASRock has at least one new Intel Xeon D-2100 motherboard listed already.