Intel shared its fourth quarter 2017 financial results last night. The figures looked attractive, with outstanding growth and record Q4 revenue of $17.1 billion and record full-year revenue of $62.8 billion. Additionally Intel was pleased to report to shareholders that it would raise the quarterly cash dividend by 10 per cent. In afterhours trading Intel shares have responded well and have been up as much as 5.3 per cent so far (reaching $47.71). The last time Intel shares were valued so highly was back in November 2000.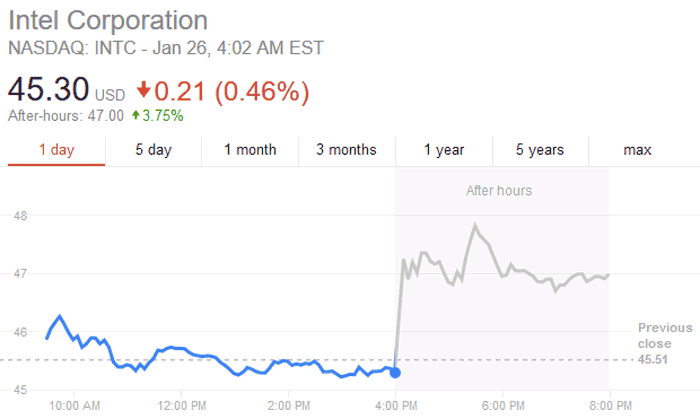 While on the topic of the financials, it is interesting to note that fourth-quarter revenue grew 8 percent year-over-year with data-centric revenue up 21 percent, and full-year revenue grew 9 percent year-over-year. "2017 was a record year for Intel with record fourth-quarter results driven by strong growth of our data-centric businesses," highlighted Brian Krzanich, Intel CEO. "The strategic investments we've made in areas like memory, programmable solutions, communications and autonomous driving are starting to pay off and expand Intel's growth opportunity."
While the data-centric operations of Intel are definitely paying off, the PC-centric operations didn't produce such stellar results. PC business revenue was actually down two per cent in Q4 2017 compared to Q4 2016, however over the full year PC revenue was up a modest three per cent.
Meltdown and Spectre hardened silicon
In the post results earnings call to investors, Intel CEO Brian Krzanich sought to assure investors that it has hardware solutions to the Meltdown and Spectre vulnerabilities, which will be delivered in the next generation of Intel chips. With investors still bathing in the warm glow of record results and increased dividends, thanks to strong 2017 performance, Krzanich talked about the future with security at the top of the agenda.
Intel's CEO said that the company was still working around the clock on addressing issues that have arisen in the wake of the discovery of Meltdown and Spectre vulnerabilities. Krzanich admitted that software fixes aren't enough going forward and told investors that processor architecture changes were coming. "We're working to incorporate silicon-based changes to future products that will directly address the Spectre and meltdown threats in hardware," Krzanich asserted. "And those products will begin appearing later this year."
Hopefully Intel's silicon fixes will be tested more thoroughly than its software-based fixes, before coming to market. Unjustly, Intel might benefit from greater sales of its in-silicon fixed architecture later in 2018, it could even go on to enjoy another record year. Certainly share traders seem positive about the results and the plans discussed in the earnings call.