Intel's CEO Brian Krzanich has penned an open letter making a pledge to put security first and foremost from now on. In a related post, from yesterday, Intel shared a raft of benchmarks illustrating the impact of the Meltdown and Spectre patches on systems packing processors ranging from Skylake to Coffee Lake.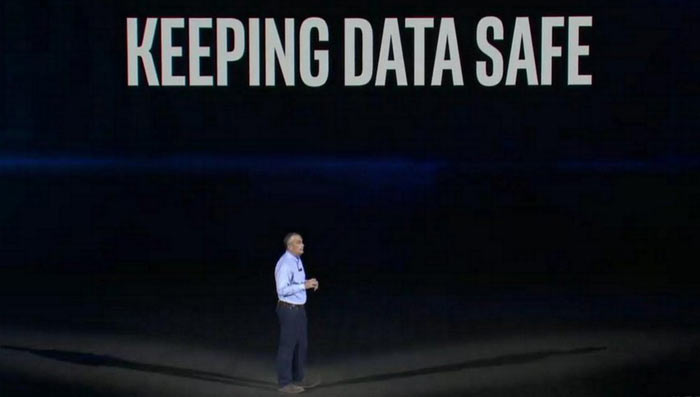 Security-First Pledge
In his open letter to the IT industry Brian Krzanich starts by saying how happy he was to see the remarkable degree of collaboration to get these bugs analysed and fixes issued. He went on to pledge that by 15th January Intel will have issued updates for at least 90 per cent of Intel CPUs introduced in the past five years. Anyone still waiting after the 15th will see updates arrive before the end of the month.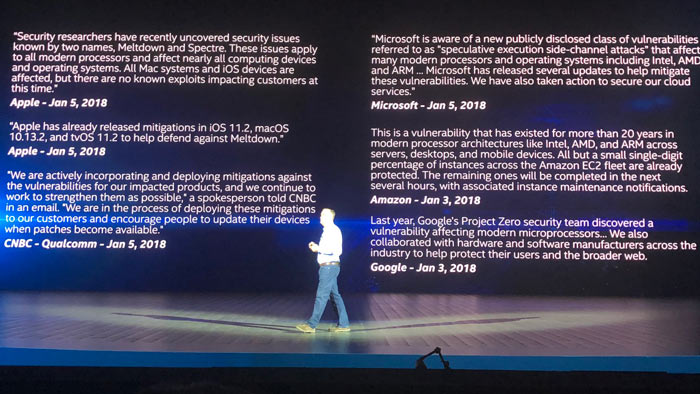 Moving forward Intel promises to provide "Transparent and Timely Communications". So, end users will benefit from progress reports, performance data and other pertinent info as software and firmware patches roll out.
The above doesn't just apply to Meltdown and Spectre, we are assured. Krzanich says that "Our customers' security is an ongoing priority, not a one-time event." In the future, Intel will "commit to publicly identify significant security vulnerabilities following rules of responsible disclosure and, further, we commit to working with the industry to share hardware innovations that will accelerate industry-level progress in dealing with side-channel attacks". Furthermore, it is nice to hear that Intel will supply funding to those researching potential security threats.
Intel Security Issue Update: Initial Performance Data Results for Client Systems
At the time of writing Intel has yet to receive any information indicating that the either the Meltdown or Spectre exploits have been used to obtain customer data. Another aspect of these issues to worry about is the slowing of expensive PCs due to security patches for the aforementioned vulnerabilities. PC enthusiasts often pay great premiums for relatively minor performance increases.
Intel's latest tests provide quite an extensive and useful reference table and they roughly agree with Microsoft's findings that older architectures suffer the greatest impact from the security patches. However, Intel has only examined architectures from Skylake to the present day and offers limited Windows 7 and Windows 8 test results. Please check out the results below which shows relative performance scores compared to a non-mitigated system (100 per cent).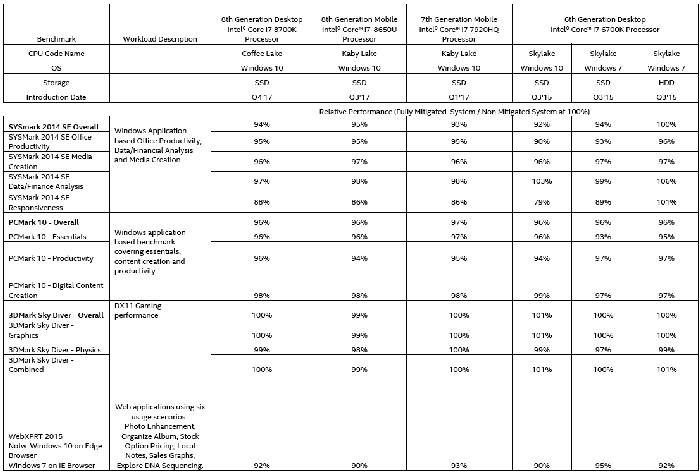 Click to zoom
The above table includes a good selection of tests from the office productivity based SysMark 2014 and PCMark 10 suites, which include both everyday essential activities and content creation, to the 3DMark Sky Diver synthetic gaming test.