In early November Intel officially announced that it was producing a new 8th generation Core processor including custom GPU cores supplied by AMD and on board HBM2 memory. Using a multi-chip-module (MCM) construction, and leveraging the Intel Embedded Multi-Die Interconnect Bridge (EMIB), would mean thinner than ever SoCs with processor, discrete graphics chip, and dedicated graphics memory working synergistically. Unfortunately further tech details were scarce, with tech enthusiasts being told we had to wait until Q1 2018 (CES 2018, we hope) for the full details. However, a couple of days later a 'Kaby Lake G' processor, matching the appearance of the MCM chip was photographed installed on an Intel NUC motherboard.

Now, thanks to a slip-up by Intel India, we have some solid hardware specs for one of the first 'Kaby Lake G' processors, the Intel Core i7-8809G. The processor in question was listed in a comparison table of Intel Overclockable processors here but has since been removed. As Anandtech reports, the specs revealed confirm a number of important things.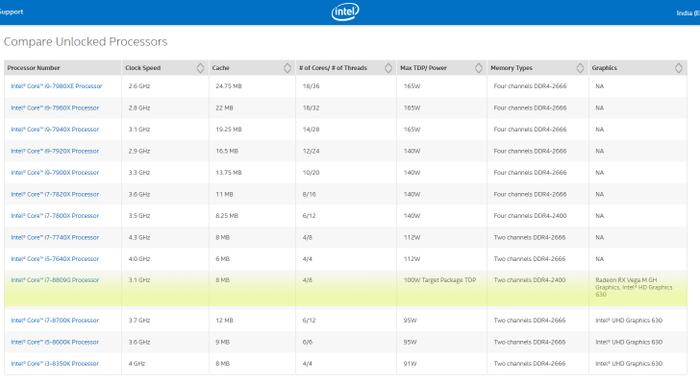 click to zoom image
First of all with its 4C/8T configuration, Intel HD Graphics 620 IGP, and memory support up to DDR4-2400, this 'G' series processor is all but confirmed to be a Kaby Lake based chip. Secondly, the listing confirms the Vega architecture is behind the AMD GPU within this SoC - but the meaning of 'GH' is not known.
Another interesting thing is how Intel describes the processor TDP as a '100W Target Package'. Anandtech calculates that with the CPU portion of the SoC consuming about 45W, the GPU would account for 55W - enough for a 20-24CU Vega design.
In its initial announcement of the AMD GPU partnership Intel hinted heavily at these designs coming to mobile platforms. However, the now removed listing was amongst Socketable Desktop Processors, raising hope that this processor model could be a drop-in solution to some existing desktop motherboards.
CES 2018 officially starts a week today but there will be quite a lot of pre-show announcements and events. Some products containing 'Kaby Lake G' processors might be launched (like this one from HP) at the event.