The recent Galaxy GOC 2017 Gaming gathering in China brought together some of the industry's biggest players and Chinese reseller partners. As well as the event sponsor, both Nvidia and Intel helped provide substance to the proceedings with explanations of market trends and plans. A new report from Chinese language site MyDrivers shares some of those plans, as disclosed by Intel at the event.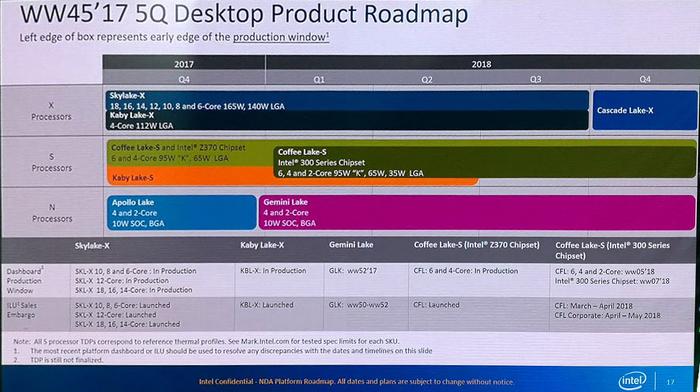 Above you can see a photo taken at Galaxy GEC 2017. This is Intel's desktop processor product roadmap from now until the end of 2018. Before looking too closely at the divisions in the chart it must be remembered that the rounded box boundaries represent the edges of the production windows, not market availability.
For premium multi-core Intel CPUs, the X-Series processors, it looks like Skylake-X and Kaby Lake-X will continue their reign until at least Q4 next year. After that we should start to see Cascade Lake-X. Though we don't have any transcript of the talk accompanying the slide, the MyDrivers report says Cascade Lake-X will likely be 14nm++ and continue to use the LGA2066 interface and X299 motherboards. Thus Cascade Lake-X will be a Skylake-X refresh.
For the mainstream desktop platform more Coffee Lake-S processors (300 Series) will start to flow from production lines early next year. If you look at the production rectangle it looks like January or February will be the time, but according to the notes below the chart we will have to wait until March or April for sales of these parts to begin. Last week we saw a raft of previously unannounced 8th and 9th generation processors leaked via a newly released Aida 64 system diagnostics app.
Last but not least, the new roadmap shows that in the low-power desktop segment Intel is readying Gemini Lake as the replacement to its Apollo Lake line. From the description the difference between the generations isn't obvious. We already know that these processors will become the Pentium gold, silver and Celeron chips. It looks like availability of the N-Series chips will start from the last couple of weeks of 2017.