Back in August we saw Intel launch the first of its 8th generation Core processors (Kaby Lake refresh). It followed up in September with the unveiling of its 8th generation Core processors for desktops (Coffee Lake). Now a raft of previously unannounced 8th and 9th generation processors have been leaked, thanks to a newly released system diagnostics app.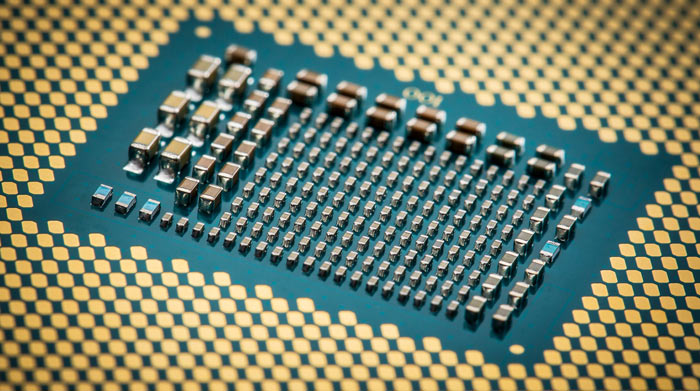 The leaked information comes from a pretty reliable source. The well regarded Aida64 system information, diagnostics, and benchmarking app contains the processor list in its latest beta. Obviously the software developers are readying a release to coincide with Intel's hardware launches. TechSpot reports that the SKU names came to the Aida64 developers ready for an expected processor launch in early 2018.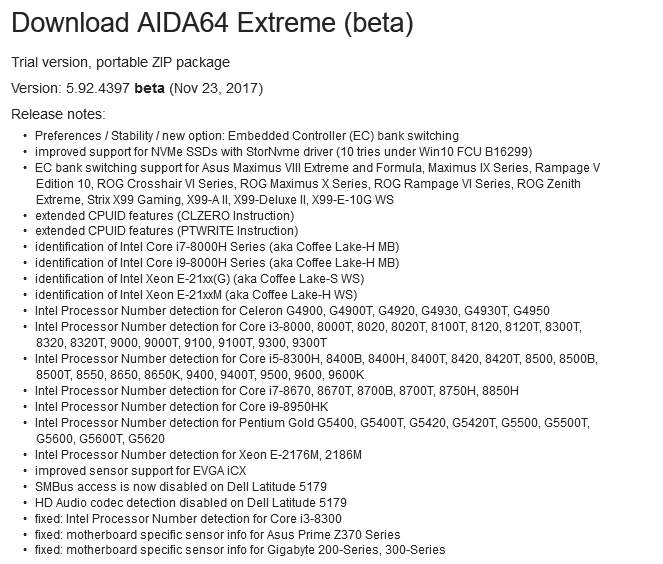 Among the long list of new Intel CPUs above, is one that is particularly interesting: the first Coffee Lake Core i9 chip for laptops. The upcoming Intel Core i9-8950HK will be overclockable and feature a 6C/12T configuration.
8th generation processors

9th generation processors

Intel Core i3-8000
Intel Core i3-8000T
Intel Core i3-8020
Intel Core i3-8020T
Intel Core i3-8100T
Intel Core i3-8120
Intel Core i3-8120T
Intel Core i3-8300T
Intel Core i3-8320
Intel Core i3-8320T
Intel Core i5-8300H
Intel Core i5-8400B
Intel Core i5-8400H
Intel Core i5-8400T
Intel Core i5-8420
Intel Core i5-8420T
Intel Core i5-8500
Intel Core i5-8500B
Intel Core i5-8500T
Intel Core i5-8550
Intel Core i5-8650
Intel Core i5-8650K

Intel Core i3-9000
Intel Core i3-9000T
Intel Core i3-9100
Intel Core i3-9100T
Intel Core i3-9300
Intel Core i3-9300T
Intel Core i5-9400
Intel Core i5-9400T
Intel Core i5-9500
Intel Core i5-9600
Intel Core i5-9600K
Elsewhere in the Aida64 release notes we see mention of the Pentium Gold CPUs. These 'gold' chips are expected to use the Core microarchitecture, while Pentium Silver models are based upon Atom cores.
Looking further down the list you can find various 9th generation processors listed. Unfortunately little is known about these processors. From the suffixes, 'T' usually means lower TDP, power limited, and 'K' means unlocked. It is also not known whether 9th gen processors will be a Coffee Lake Refresh or Ice Lake based.