We noted that the HP Envy x360 with Ryzen Mobile processor started to become available in the USA about a fortnight ago. Actually, at that time AMD's CEO Lisa Su sought to publicise the new 2-in-1's availability by popping over to Best Buy, buying an HP Envy x360, and then taking a selfie with the machine outside of the store for Twitter. Some enthusiasts ran benchmarks shortly after that date, as noted in the HEXUS forums but over the weekend Notebookcheck published a preview of its Envy x360 15-inch version benchmark data as it prepares for a full-blown review later this week.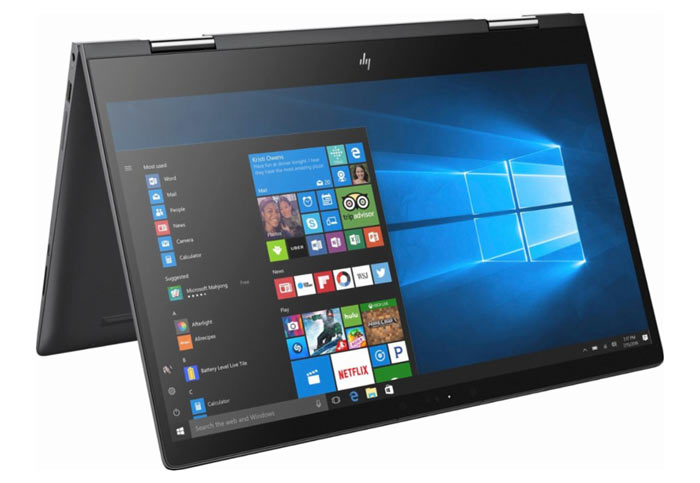 It's pretty easy to sum up the CPU and GPU performance of the AMD Ryzen 5 2500U in HP's new 2-in1. Notebookcheck first considers the CPU processing power: "the CineBench R15 scores for our Ryzen 5 2500U test notebook are essentially identical to Intel's Core i5-8250U in both single- and multi-threaded loads," it reports. Turning to GPU performance, expect about double the graphics performance of the Intel Core i5-8250U chip in 3DMark 11.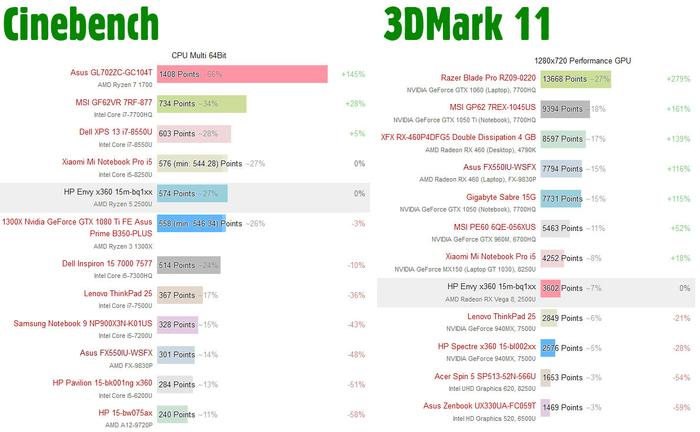 click to zoom charts
While performing its demanding benchmarks, Notebookcheck wanted to see if the Ryzen Mobile chip would start to throttle after extended periods. Impressively the site only observed a "small-but-measurable 3 per cent dip" in looped CineBench R15 Multi-Thread tests. It contrasts this result to the >30 per cent decline from the i7-7660U in the Surface Pro tablet when under stress.
GPU benchmarks put the AMD Ryzen 5 2500U's 3D pixel processing power at a spot between the venerable Nvidia GeForce 940MX and new GeForce MX150. The GPU is approx twice as fast as the Intel UHD Graphics 620 built-into the Core i5-8250U processor. On the flip side it's about half as fast as the GeForce GTX 1050 or AMD Radeon RX 460, as featured in the laptops comparison tested.
If the figures above disappoint you in any way it's worth consulting the power consumption results for the HP Envy x360 15 (reproduced below). In Notebookcheck's final graph ahead of its full review, we see the machine offer very impressive consumption results, with excellent idling power consumption and at maximum processing load / 3D gaming hitting about 50W. Last but not least the "Ryzen-equipped Envy x360 15 is just $630 USD compared to $850 USD for a Kaby Lake-R-equipped Envy x360 15," which could be the clincher.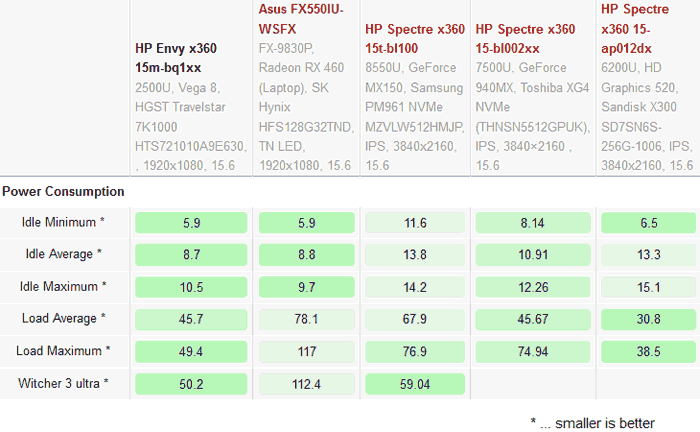 Credits: benchmark data and graphs from Notebookcheck.