Last week Qualcomm announced that it had started to ship its new 10nm Centriq 2400 processors. These 'Falkor' CPU ARM-based processors pack up to 48 cores and are built for fast and energy efficient cloud computing tasks. At the time Qualcomm published various charts and graphs highlighting the best features of its Centriq 2400 processors and made headline claims that the top of the range 48 core Centriq 2460 processor "offers greater than 4X better performance per dollar and up to 45% better performance per watt" and is priced at $1995.
Wouldn't it be interesting to see some real-life comparison tests by a cloud computing giant? Luckily Cloudflare engineer Vlad Krasnov has published a blog post on how the latest Qualcomm Centriq server processor / platform stacks up against the plethora of Broadwell and Skylake Xeon based servers it already deploys for cloud computing tasks.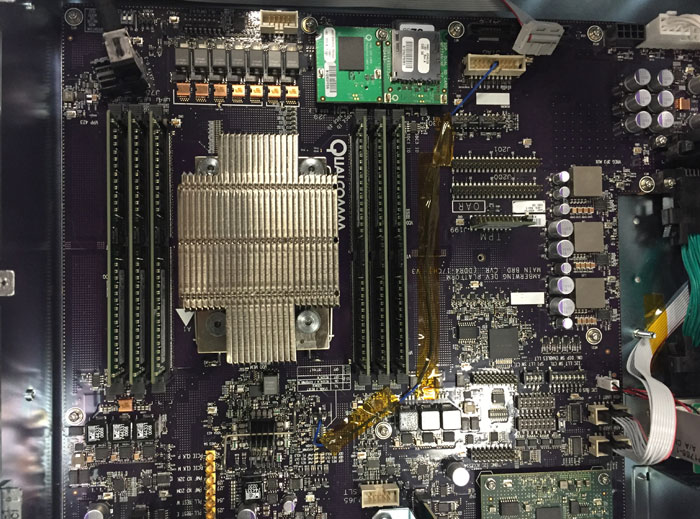 Krasnov starts by looking at the specs and sums up that on paper the Falkor core-based processor from Qualcomm "looks very competitive". He explains that its not just hardware which is the issue with ARM servers, the platform hasn't fared so well in the past due to the lack of, or weak, software support by the majority of vendors. However in the last two years ARM has put efforts into this area and "most Linux distros, as well as most popular libraries support the 64-bit ARM architecture," notes Krasnov. Furthermore, some key services used by Cloudflare have optimization profiles for the Falkor core. So onto the benchmarks…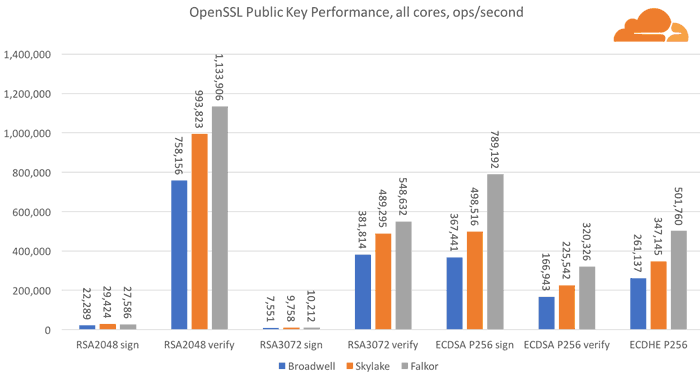 A multitude of server benchmarks are worked though in the blog post by Krasnov and visitors to the blog can see charts showing relative performance in Public key cryptography, compression, Golang language tests, Cloudflare's LuaJIT framework, and NGINX.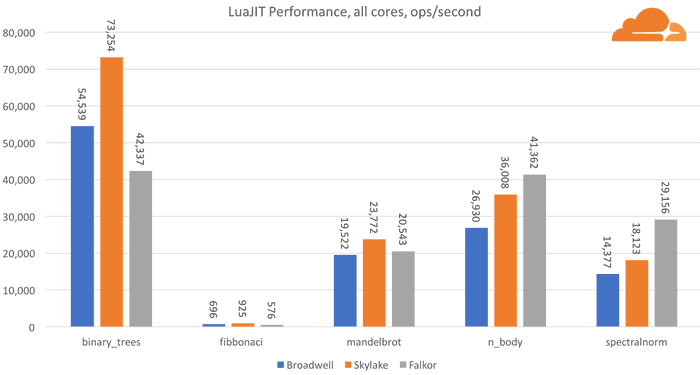 In conclusion, most of the tests showed that Intel was stronger in single-core benchmarks but the tables turned once all-cores were put into play. There were exceptions to that rule, mostly with regard to the Golang apps but often the Centriq was still competitive or at least acceptable. Krasnov stated that "the engineering sample of Falkor we got certainly impressed me a lot". Furthermore, the production samples run at faster clock speeds for a potential 8 per cent gain.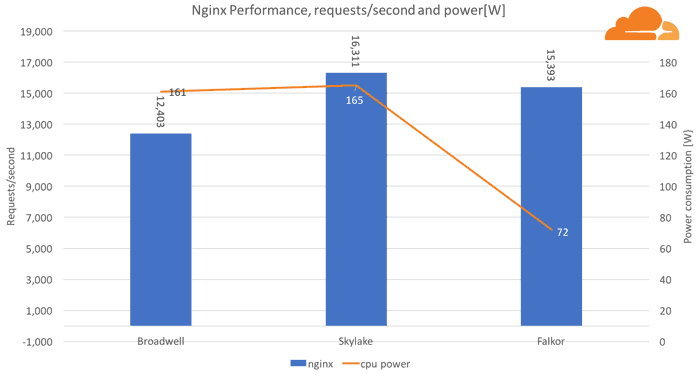 The biggest win for Falkor though, was its energy efficiency, see directly above. Krasnov said that "although it has a TDP of 120W, during my tests it never went above 89W (for the go benchmark). In comparison Skylake and Broadwell both went over 160W, while the TDP of the two CPUs is 170W". Energy efficiency is very important to businesses like Cloudflare running multitudes of servers 24-7.
All photos and graphs via the Cloudflare blog.