At the start of this week shockwaves were felt in the computer chip business in the wake of Intel's announcement of a new 8th generation Core processor which would include custom GPU cores supplied by AMD, and on board HBM2 memory. The multi-chip module (MCM) processor would be unified by Intel's EMIB, "a small intelligent bridge that allows heterogeneous silicon to quickly pass information in extremely close proximity". Furthermore, a hardware / software framework would ensure the slim new SoC would operate efficiently. Various reports have the new Intel products codenamed as 'Kaby Lake G'.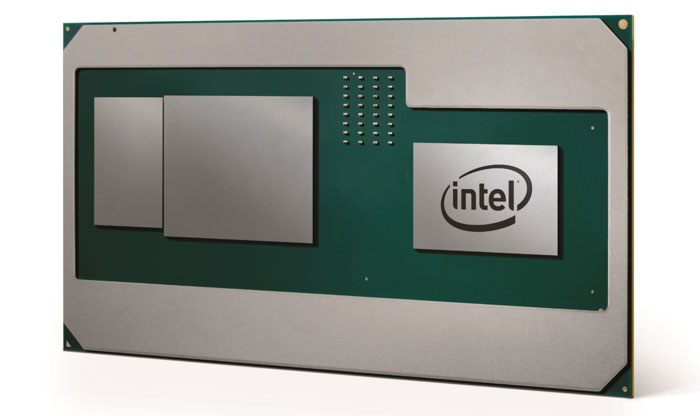 In its initial news burst Intel outlined the MCM design, its EMIB technology, and the benefits it would deliver, especially to thin and light laptops hoping to pack enough power to take on 'premium experience' content consumption and creation. The first laptop, 2-in-1, and mini-desktop systems packing the new Intel/AMD MCM collaborative designs will emerge in Q1 2018, hopefully as early as the CES 2018, we hope.
In its news release we got to see a render of the Kaby Lake G and a size comparison but no further pictorial detail, and AMD's news release didn't even include a single photo or chart. However, Bits And Chips on Twitter has obliged with a nice photo of one of the new SoCs in the flesh (via Guru3D).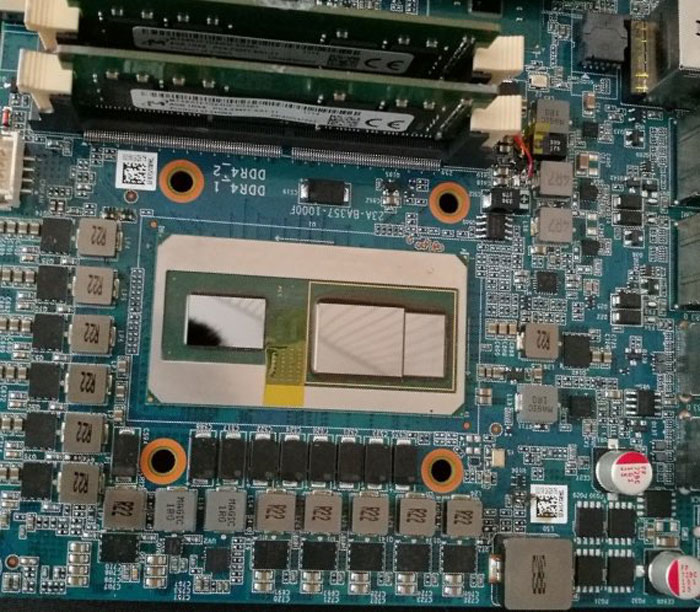 Above you can see the sizeable (but with low Z height) processor that could be behind a lot of attractive, portable, and punchy laptops next year. It seems to be installed on some kind of desktop test machine, which is understandable at this stage of development. Looking from left to right you can see the (8th gen) Intel CPU, then a significant gap before the larger AMD Vega GPU, and then the HBM2 memory stack.
In replied to its initial Tweet, Bits And Chips suggested the GPU would likely perform on a par to the AMD Radeon R9 285. You will have to look back to 2014 to find HEXUS reviews of AiB products based upon the R9 285. Perhaps that statement comes from reading through TechPowerUp's collection of purported Kaby Lake G benchmarks earlier this week, or is from some independent experience with the MCM, it's hard to know.
UPDATE: it looks like the above picture is part of this larger view of an Intel NUC board.