Today Intel has announced a new 8th generation Core processor which includes custom GPU cores supplied by AMD and on board HBM2 memory. The chipmaker says it was spurred on to collaborate with AMD as part of its "focus on driving innovation for the enthusiast community".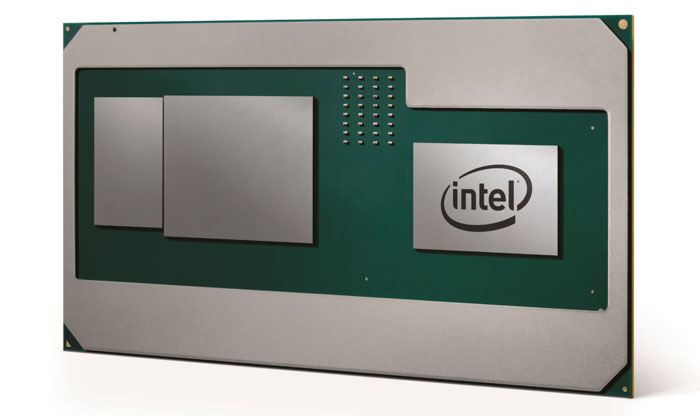 Intel had identified that it couldn't deliver a premium computer experience for gamers and enthusiasts in the thin and light form factor laptop, typically between 11 and 16mm thick. To meet this challenge, "reducing the usual silicon footprint to less than half that of standard discrete components on a motherboard", it has worked with AMD to integrate a custom-to-Intel third-party discrete graphics chip from AMD's Radeon Technologies Group and the necessary memory tech.
Behind the new chip design is Intel's EMIB, "a small intelligent bridge that allows heterogeneous silicon to quickly pass information in extremely close proximity". EMIB stands for Embedded Multi-Die Interconnect Bridge, and in-use it can facilitate thinner than ever SoCs, while reducing design complexity. Additionally, a new power-sharing framework means the processor, discrete graphics chip, and dedicated graphics memory work synergistically.
Intel has to create the new interfaces and write software drivers to co-ordinate all three vital elements in the new processors. It included facilities to manage temperature, power delivery and performance states in real time and adjust performance balance depending upon tasks.

Laptop motherboard section dedicated to CPU, discrete GPU, and GDDR5 -> one of the new processors.
At the time of writing details about the new processors are scarce. We know the broad plan but would like much more detail on the execution. New products and systems based upon these Intel CPU / AMD GPU / HBM2 packing SoCs will arrive in Q1 2018. More info is likely to come through ahead of that time, at least in time for the CES 2018 we would hope.
Overall this is good news for enthusiasts, and looks to be excellent news for AMD. To quote CNBC, its shares have "surged" on the news. Check out the chart below…