Intel has launched its new family of 8th Gen (Coffee Lake) Core desktop processors. It says this 14nm desktop processor family is "built for gamers, content creators and overclockers who require premium performance". With gamers in mind, Intel claims the new processor family provides a boost in frame rate "of up to 25% Gen over Gen", and it heralds the top of the range Core i7-8700K as "Intel's best gaming processor ever".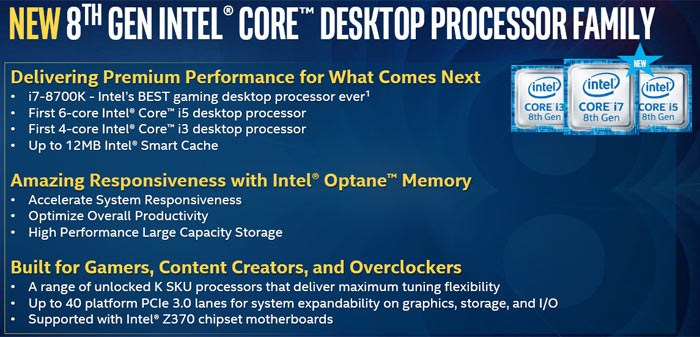 Intel revealed six processors in all, which will be released on 5th October. There are a pair of i3, i5, and i7 processors, one of each is a 'K' suffixed' unlocked processor. As regular HEXUS readers will already know, the 8th gen Core range mixes things up in a big way for Intel introducing processors with up to six cores and 12 threads. Even the i3 has been boosted to become a quad-core part.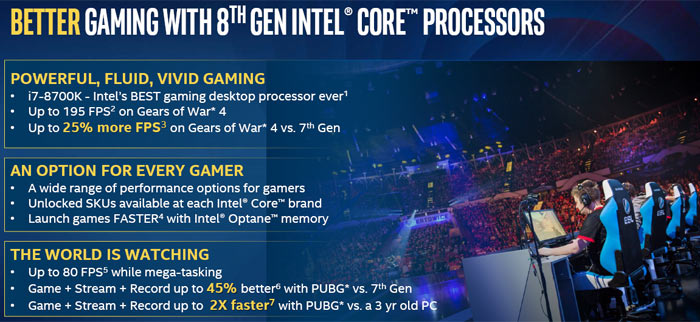 Though Intel headlined a lot of its 8th gen Core processor claims with its eye on gamers, the new processors also deliver worthwhile benefits to content creators and overclockers. For example, if you edit 4K 360 degree videos there will be a 32 per cent speed uplift compared with previous gen processors, claims Intel. Overall content creation and editing will be up to 65 per cent better than on a three year old PC according to Intel's own tests.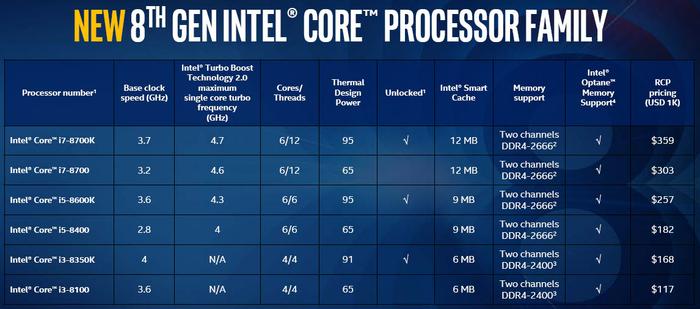 click to zoom in
Overclockers will be attracted to the 'K' suffixed parts. The unlocked multiplier isn't the sole attraction though, as Intel highlights the ability to indulge in per core overclocking, with max memory ratio up to 8,400 MT/s, real-time memory latency control, and extended PLL trim controls, enhanced package power delivery, and make use of the updated Intel Extreme Tuning Utility.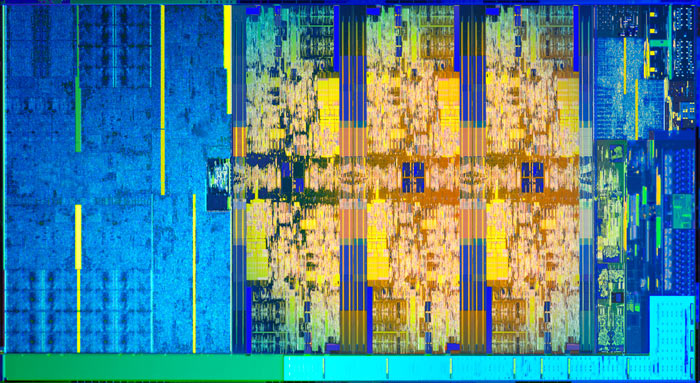 The Intel Z370 chipset provides improved power delivery needed for the new 6-core processors, says Intel. Such Coffee Lake systems provide up to 40 platform PCIe 3.0 lanes for system expandability on graphics, storage and I/O.
Intel Core X-series Extreme Edition 14-, 16 and 18-core processors
HEXUS published its review of the Intel Core i9-7980XE (14nm Skylake-X) this morning. This is the most potent of the three processors that have started "shipping to ecosystem customers today".
For info about the now fleshed out Intel Core X-series Extreme Edition processor range you can head on over to the news release. There you can also find links to press kits, fact sheets and product overview PDFs.
Intel Project Alloy is dead
One last Intel snippet for today. It is reported that Intel has canned its Project Alloy VR headset platform. The project had been in gestation since mid 2016 but there was lack of partner interest (many possible partners are collaborating with Microsoft already), and Intel admitted that PC connected systems are a better fit for purpose.