Intel has launched the Xeon W Processor series aimed at mainstream single socket workstations. It claims the new Intel Xeon Scalable processors can improve productivity, especially in its target markets of photorealistic design, modelling, artificial intelligence (AI), analytics and virtual-reality (VR) content creation.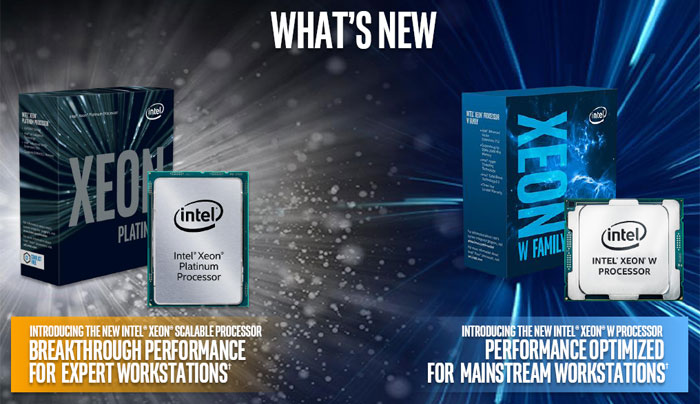 We already saw a hefty crop of Xeon Scalable processors launched in July. Fifty new Xeon processors were detailed at that launch broken down into four segments; with the up to 28 core / 56 thread Xeon Platinum at the top, followed up by the up to 22 core Xeon Gold processors, with Xeon Silver and Gold processors in the supporting ranks. In Intel's language the Platinum, gold, silver and bronze Xeon Scalable processors were made for "agile, secure workload optimised hybrid cloud" operations. So they were aimed at data centres. If you are a traditional Xeon customer wanting to upgrade your 'traditional' workstation(s) this is where the new Xeon W processors come in.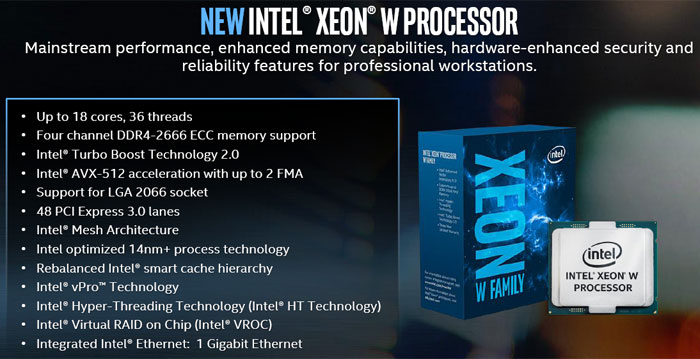 The top end new Xeon W is the Intel Xeon W-2195 processor. It boasts 18c/36T configuration with a base/boost clock of 2.3/4.3GHz. According to Intel's own testing, performance improvements based upon a "4 year refresh" are approx 1.87x, and there's a 1.38x improvement compared to the immediately previous Xeon generation. Intel Xeon W processors can only be configured in single socket systems.
Whichever you choose from today's launch there are 48 PCI Express 3.0 lanes provided, up to 512GB of RAM is supported, a motherboard with socket 2066 is required, and every new Xeon W chip, bar the entry level 4C/8T pair (120W) has a TDP of 140W.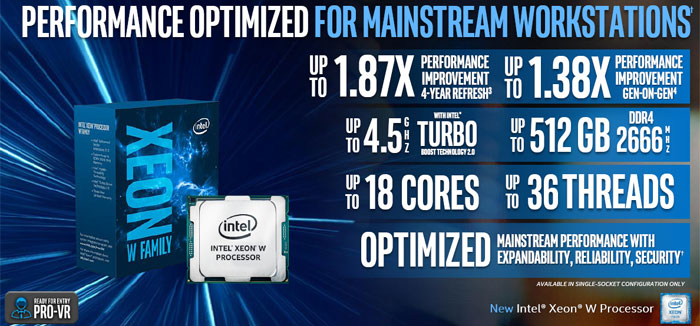 Please check out the full product matrix published by Intel, below (click to zoom in). Notably the 18C/36T and 14C/28T duo at the top of the chart are unpriced at the time of writing. Intel says that these two goliaths will be available from Q4 this year. The priciest Xeon W we know of is the 10C/20T W-2155, at US$1,440.