Earlier this week we saw Gigabyte launch a new server motherboard that came packing a previously unannounced Intel Atom C3958 16-core 2.0GHz processor. It looks like Gigabyte was just a little out of step with Intel's announcements as the company has just now got around to formally publishing the Intel Atom C3000 Processor family product brief. These processors are especially suitable for a variety of light scale-out workloads that require very low power, high density, and high I/O integration including network routers, switches, storage, security appliances, dynamic web serving, and more.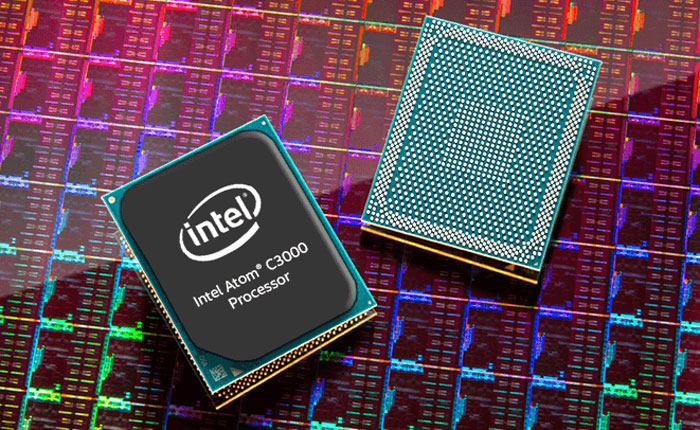 These SoCs aren't for new Atom-powered devices similar to those you might have at home (netbooks and tablets etc). Instead Intel's Atom C3000 series SoCs are designed to deliver "low power, efficient intelligence, to the farthest edge of the network." You will soon start to see this family of processors in Network and Enterprise Storage products like the Gigabyte server motherboard (6 SKUs), Server and Cloud Storage products (5 SKUs), and IoT devices (4 SKUs).
Within the aforementioned fields of operation these new Atom processor can deliver up to 4.0x storage performance improvement, up to 3.4x network performance improvement, and up to 2.3x compute performance improvement, according to Intel's testing. The C3000 series are the third generation system-on-a-chip based CPUs manufactured on Intel's optimized 14nm process technology.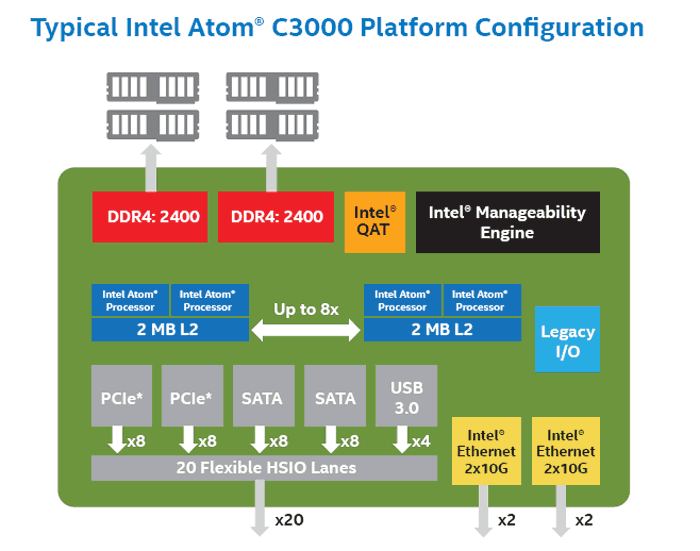 You might not be familiar with Intel QuickAssist Technology (Intel QAT), as featured by both the Network and Enterprise Storage and IoT device targeted Atom SKUs. This feature offers up to 20Gbps cryptography and up to 20Gbps of compression, to free up valuable cycles on processors.
At the top end of the Network and Enterprise Storage product stack Intel offers the Atom C3958 with 16-cores and running at 2.0GHz at $449. This 31W processor is capable of addressing 256GB of RAM and can support 8x USB 3.0 ports, 16 SATA ports, and offers 4x10/2.5/1GbE LAN. Compare that to the Intel Atom C3338 for the same target market, that packs just 2-cores, running at 1.5GHz base / 2.2GHz boost with a TDP of 9W. This little $27 Atom can still address 128GB of RAM. Furthermore, it can support 8x USB 3.0 ports, 10 SATA ports, and 4x2.5/1 GbE LAN but doesn't offer Intel QAT.
Check out the full range of Intel Atom C3000 SKUs below.