We have previously seen various Intel Coffee Lake rumours and leaks. On Monday we should know the full, official, and reliable truth about the upcoming 8th Generation Core processors. However, not that far ahead of Intel's 'Great American Solar Eclipse' event (Monday 21st August), we have witnessed a rather comprehensive leak of the Coffee Lake series.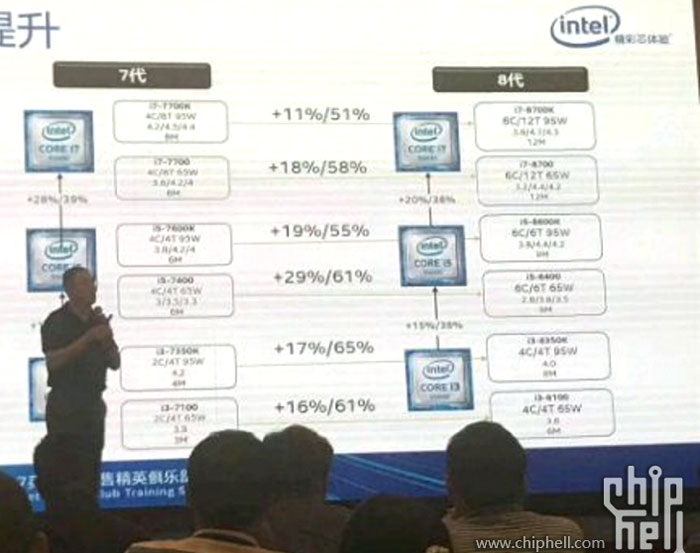 A photo from an Intel event intended for local distributors in China was published yesterday evening on the Chinese language ChipHell forums (via TechPowerUp). The slightly blurry but legible enough picture (above) shows a key slide that compares Intel 7th generation and 8th generation Core desktop processors. Furthermore, it lists the key tech specs of each respective processor in the comparison table.
TechPowerUp calls the generational changes "the biggest fundamental update to the product stack since the Core MSDT family started out a decade ago". The new Coffe Lake processors are claimed to deliver per-core performance increases ranging between 11-29 per cent PLUS between 51 and 65 per cent increases in performance in multithreaded workloads thanks to their higher core counts.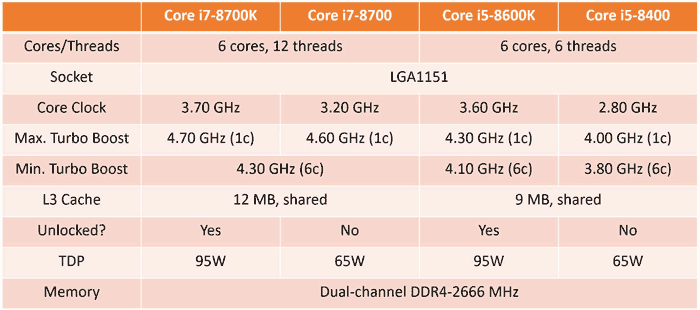 The top Coffee Lake processor will be the Core i7-8700K which is a 6C/12T CPU, running at 3.7GHz base freq, 4.7GHz boost (1C), 4.3GHz boost (6C), with 12 MB of shared L3 cache, and an unlocked multiplier. The Intel Core i7-8700K has a TDP of 95W. Moving down the stack Core i5 processors from the 8th gen boast 6C/6T configurations (one is unlocked), and the trio of Core i3 processors detailed include one unlocked 'K' model and are all 4C/4T CPUs. Summary spec tables via TPU are embedded above and below.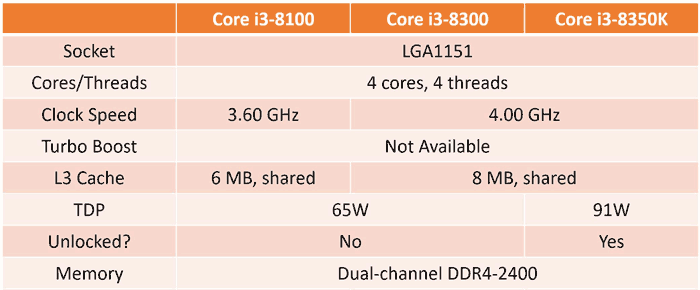 With the obvious enhancements delivered by Coffee Lake it will be interesting to see Intel's pricing strategy.