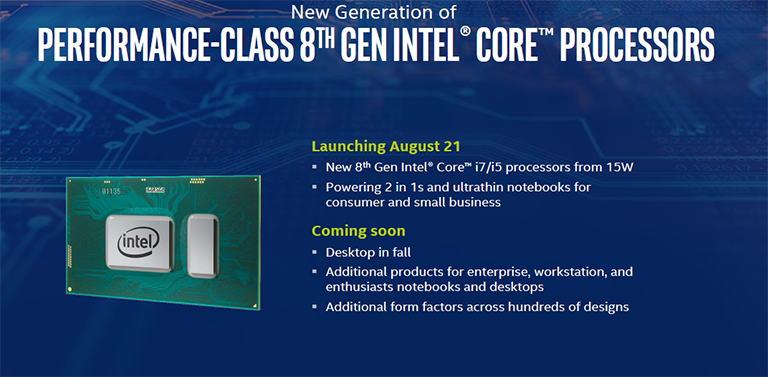 Intel is today launching the first slew of 8th Generation Core processors. These processors are destined for the premium Ultrabook market and arrive in the form of four U-series chips outfitted with a configurable 15W TDP.
Stepping back for a moment, on a conference call last week, Intel has gone on record as saying that the entire spectrum of 8th Generation Core processors - Ultrabook, performance notebook, desktop, etc. - will be built on either Kaby Lake Refresh, Coffee Lake or Canon Lake architectures, spanning production from present 14nm+ down to 10nm. This means that generational chips will no longer be restricted to architectures.
As the U-series is coming first, set to be in the market by next month in a wide range of Ultrabooks, Intel has played it safe, architecturally, by using a refined version of Kaby Lake known as the 'Refresh'. The big news is that the four new chips will offer significantly more CPU processing power than any U-series available today, with up to a 40 per cent gain made possible by a combination of switching from a dual-core, quad thread design (2C4T) to quad-core, octo-thread (4C8T), improved manufacturing techniques and better design (higher Turbo bins). That's an impressive achievement given the lowly wattage limit Intel has to work with.
So let's take a look at the four new processors and see how they stack up against some of the most commonly-used 7th Generation U-series present in Ultrabooks such as the Razer Blade Stealth and Dell XPS 13.
Intel U-series

Model

Cores /
Threads

L3
Cache
(MB)

Base
Clock
(GHz)

Turbo
Boost
2.0
(GHz)

Graphics

TDP (W)

Price

8th Gen Core U-Series
Core i7-8650U

4 / 8

8

1.9

4.2

UHD 620

15

TBC

Core i7-8550U

4 / 8

8

1.8

4.0

UHD 620

15

TBC

Core i5-8350U

4 / 8

6

1.7

3.6

UHD 620

15

TBC

Core i5-8250U

4 / 8

6

1.6

3.4

UHD 620

15

TBC

7th Gen Core U-Series
Core i7-7500U

2 / 4

4

2.7

3.5

HD 620

15

$393

Core i7-7200U

2 / 4

3

2.6

3.5

HD 620

15

$281
The obvious standout feature is the greater number of cores. We're not going to see double the all-core performance as adding in twice the silicon artillery means that in heavy-load situations the new 8-series chips won't clock as high. However, single-thread peak performance remains excellent.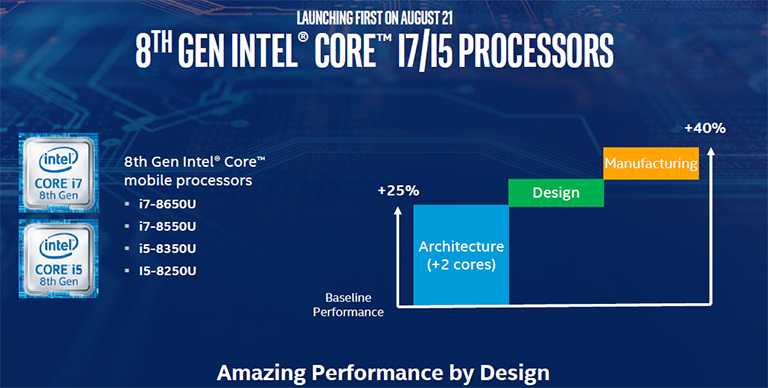 Again, there is little difference between the Core i7 and Core i5 variants of the 8xxx U-series CPUs, and they differ only in the CPU and GPU speeds. Speaking of which, Intel puts almost all of its performance eggs in the CPU basket, meaning the HD Graphics 620 from the 7th Generation chips is carried out, but is now called UHD 620 due to the ability to run 4K content. Going back to speeds and feeds, Core i7 chips' IGP runs at up to 1,150MHz whilst the Core i5 can peak at 1,100MHz.
Intel says that about 40 design wins will be shown off today, ostensibly updates to Ultrabooks from the likes of HP, Dell, and Razer, with more than 145 set to be made public soon.
Popular Ultrabooks just got a shot in the performance arm with Intel's latest U-series processors, now packing in twice the number of CPU cores. It can be argued that innovation has stalled in the desktop space, yet it is alive and kicking in the notebook arena.