A page with a brief description of the Ice Lake Platform has appeared within Intel's processors and chipsets website section. The Ice Lake processor family is described as "a successor to the 8th generation Intel Core processor family," and it will utilise the "industry-leading 10 nm+ process technology," says Intel.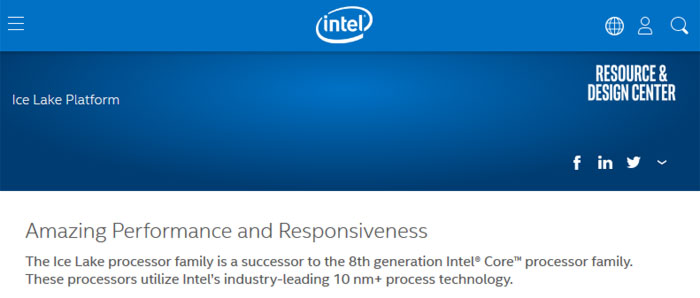 Intel officially announced that it would unveil the 8th Generation Intel Core processor family (Coffee Lake) on Monday, 21st August. We are excited to see and hear more about these new processors, as it is widely believed they will provide a big shakeup in the Core i3, i5, and i7 chip capabilities.
For example we have seen leaks suggesting there will be several 8th gen Core i7 processors in 6C/12T configuration, and even Core i3 chips might see 4C as the norm. In addition, Intel has said that the new 14nm Coffee Lake chips will offer "blazing fast performance… immersive experiences… [and facilitate] amazing system designs". Intel said performance gains of up to 30 per cent could be observed on 15W mobile processor parts (vs Kaby Lake). Recent Coffee Lake platform leaks point to there being 24 PCIe 3.0 lanes provided by the Intel Z370 Express chipset for desktop systems - that's as well as the 16 lanes for PCIe graphics cards. Coffee Lake processors should be available in devices, and for desktops, later this year.
Back to the Ice Lake news, due to the Intel statement's brevity, there's not a lot to add to the intro paragraph. It looks like Ice Lake will be the first Core processor family and platform to use Intel's industry-leading 10 nm+ process technology.
Early Intel roadmaps indicated Kaby Lake would be followed by Cannonlake on 10nm but Coffee Lake is the fourth tweak to 14nm. Perhaps Intel has decided to stride forward straight to 10nm+ due to competition from AMD Ryzen processors. The uncertainty stems from Intel's statement of Ice Lake being "a successor to the 8th generation Intel Core processor family," rather than 'the successor'. In January we heard that three 10nm Core processor families would be launched by Intel; Cannonlake, then Ice Lake, followed by Tiger Lake (following this model: Process-Architecture-Optimization).