A few hours ago Intel officially stated the time and place for the unveiling of the 8th Generation Intel Core processor family (Coffee Lake). Either Intel planned the event to coincide with "the Great American Solar Eclipse", or it was a happy accident that its marketers have grasped, as you can see in the event invite below - "Amazing things happen when all things align".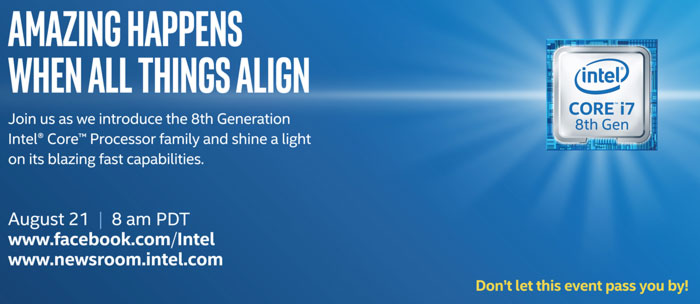 At 8am PDT (4pm BST) on Monday, 21st August, Intel will take the wraps off the 8th Generation Intel Core processor family. You don't have to attend to taste the news at its freshest as Intel has decided to live stream the unveiling event live via its own Newsroom microsite and its Facebook page.
Intel hasn't given us any new information about its upcoming Coffee Lake CPUs but has provided an outline of its presentation plans. It says that the new processors will offer "blazing fast performance… immersive experiences… [and facilitate] amazing system designs". These claims will be verified on stage by Intel execs, VR creators, and imaging pros using PC system powered by the new 8th Gen Intel Core processors. Finally, the event will be over in time for you to catch the solar eclipse as it starts its way from Oregon in the west across the states.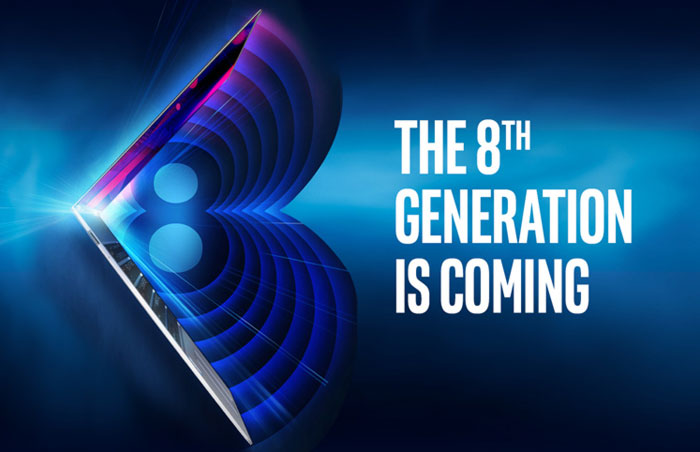 While Intel is leaving us waiting nearly another fortnight until it unveils the official specs of the Coffee Lake processors and supporting motherboards, we have seen some pretty in-depth leaks about what to expect. The weight of chitter chatter seems to indicate that Intel will step up the core count throughout its consumer range to combat the AMD Ryzen threat. A couple of weeks ago we saw some rumours that the new lineup would include at least a trio of hexacore CPUs, possibly in 6C/12T configuration.
Intel Core i3 with 4C/4T?
At the lower end of the Coffee Lake family there are also signs of significant improvements. If a 'diamond member' of the AnandTech forums is to be believed, the key specifications of the Core i3-8350K and i3-8100 are now known. These are both reputed to be quad core processors but won't offer Hyperthreading, according to the source.
Last but not least, within its official invitation to watch the 8th Generation Intel Core processor family unveiling we are told that we can expect devices powered by these processors to start arriving "in the holiday season and even before".