The unconfirmed specifications for a trio of Intel Coffee Lake processors have been published. Tech site PC Authority published a specifications table for the three LGA 1151 processors in the wake of a CPU-Z screenshot of a 6C/12T Core i7 8700K engineering sample, which it published last week.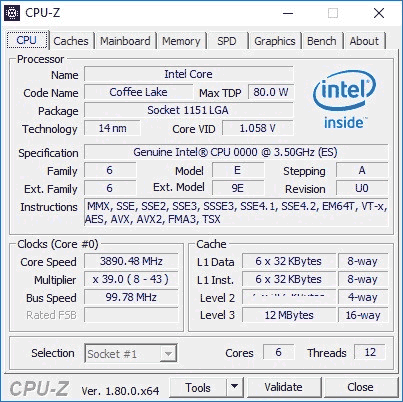 As a reminder, the 14nm Coffee Lake processors will use a tuned and optimised Skylake architecture to yield a claimed 30 per cent performance increase from the same power draw. Coffee Lake will also introduce 6C/12T processors to the mainstream lineup.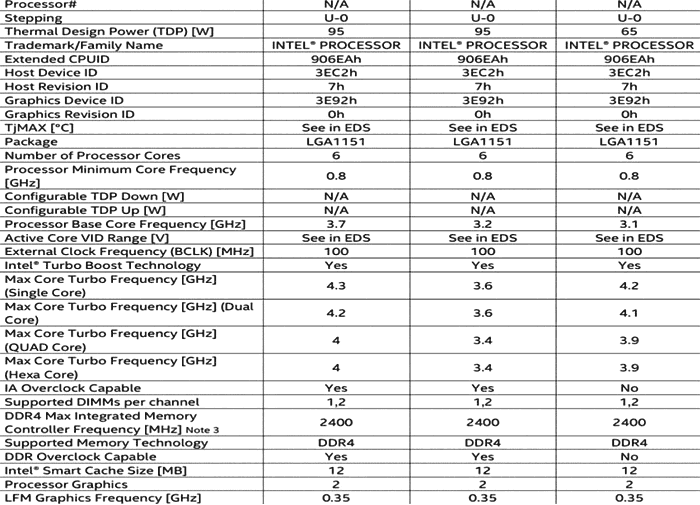 According to Guru3D, the first processor in the table above is likely to be the i7 8700K. Notice it has a 95W TDP, 3.7GHz base clock, 4GHz boost for quad core, 4.2GHz for dual core and 4.3GHz for single core operation. The next chip in the table has significantly lower clocks across the range of multi-core operation modes but still has a 95W TDP.
Lastly you can see a 65W chip which has a base clock of 3.1GHz but in quad core core turbos to 3.9GHz, in dual core turbos to 4.1GHz, while single core achieves 4.2GHz. According to the source this won't be an unlocked K suffix CPU but "is likely an i7 T series chip".
As all the CPUs use LGA1151 they are likely to work on existing 100 and 200 series motherboards with BIOS support updates. It will be very interesting to see how Intel stirs up the rest of its range, like the Core i5 and i3 processors, to remain competitive outside of its higher end consumer processors segment.