Over the weekend Intel's principal Engineer publically announced that he was leaving the company. Francois Piednoel had been with Intel since 1997 and worked on a wide range of processor designs including Katmai, Conroe, Penryn, and Nehalem, plus SoCs from SandyBridge to Skylake, KabyLake, Skylake-X and Atom products. Furthermore Piednoel was heavily involved in the significant shift from Pentium 4 to Core microarchitecture.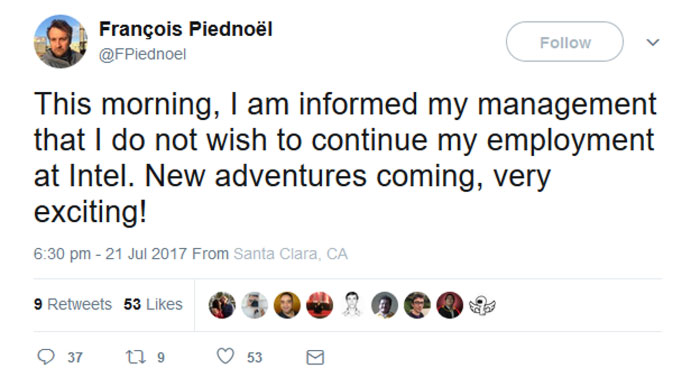 On Friday evening Piednoel Tweeted to tell his followers that he has informed the Intel management that he was departing for pastures new. You can see the precise wording of his public announcement above. For those of you viewing with graphics disabled or using a screen reader the statement was as follows: "This morning, I informed my management that I do not wish to continue my employment at Intel. New adventures coming, very exciting!"
Thankfully Piednoel answered some questions that were Tweeteed to him, regarding his future plans. First of all his followers wanted to know if he was going to AMD… The ex Principal Engineer at Intel answered a dramatic "NEVER!" Later Piednoel explained the fulsome denial: "Because my knowledge about Intel is too deep, I would get lawyers knocking on my door next day," was the rather obvious answer.
From further answers it sounds like Piednoel is vocationally moving some distance from CPU engineering. After 20 years working on OC and CPU platforms "it is time to do something different," he surmised. Surely he will be financially comfortable enough now to enjoy some time off, to take stock, before embarking on a new engineering position or even doing something completely different, as he hints.
UPDATE:
A couple of hours ago Piednoel signalled that he already has an idea where he might like to work in the future; AI.