Today at Computex 2017 Intel has launched its Core-X Series processors which will include the 18C/36T Intel Core i9 Extreme Edition processor. This is the first time such a "scalable, accessible and powerful desktop platform," has been offered to consumers, says Intel. With the new processors comes the new Intel X299 chipset, which adds extended I/O and overclocking capabilities.

Intel Core-X Series processors
The new Core-X Series offers SKUs boasting from 4 to 18 physical cores. Today Intel has detailed an initial family lineup with up to 10 physical cores. It promises that "18, 16, 14, and 12 cores are coming soon". However, at the top of the range we are teased that the 18C/36T Intel Core i9 Extreme Edition processor is the "first teraflop desktop CPU from Intel".
Key features of the Core-X Series are as follows:
Intel X299 chipset with improved I/O capabilities
LGA 2066 socket for Intel Core X-series processor family
Additional system performance and amazing responsiveness with Intel Optane memory support
Improved Intel Turbo Boost Max Technology 3.0 (select SKUs) for single- and multithreaded performance
Up to 44 lanes of PCIe 3.0 directly connected to the CPU
Up to 4 channel DDR4-2666 memory support, support for the Intel Extreme Memory Profile (Intel XMP) specification, revision 2.0 for DDR4
Fully unlocked for performance tuning
Rebalanced smart cache hierarchy
I think it would be a good time now to look at a table that summarises the initial batch of Core-X series offerings.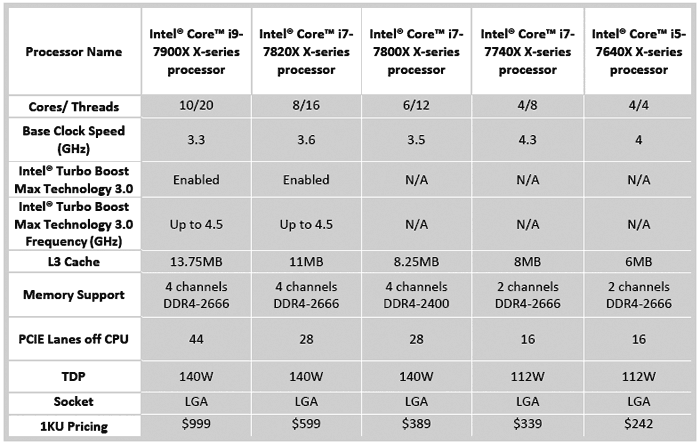 The currently available top Intel consumer CPU from is the 10C/20T Core i9-7900X, with a TDP of 140W, at $999. At the other end of the table you can see the 4C/4T Core i5-7640X, with a TDP of 112W, priced at $242.
Intel talks about many of the same benefits delivered by its Core-X series processors that AMD visited with the Ryzen launch. For example, Intel says that: content creators can multitask much more smoothly and efficiently with several processor intensive tasks; and gamers can enjoy smooth gaming while they record, encode and stream their gameplay.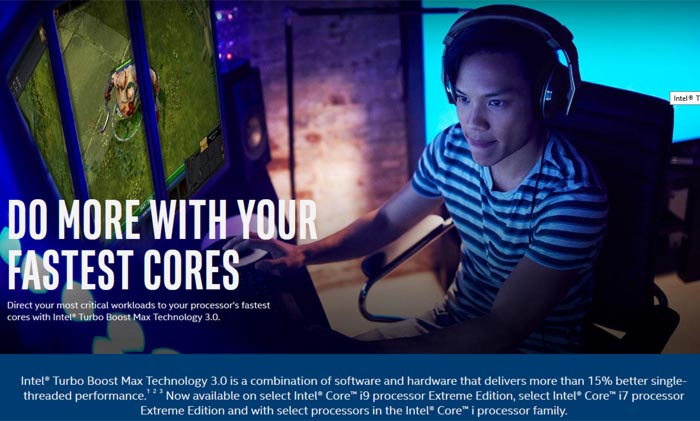 Intel X299 Chipset
Intel's accompanying new chipset is built to match the Core-X Series enthusiast aspirations. More specifically, the X299 chipset offers; 30 total high-speed I/O lanes, up to three Intel Rapid Storage Technology PCIe 3.0 x4 storage support, support for Intel Ethernet Connection I219 (Jacksonville LAN PHY), and are Intel Optane memory ready with DMI 3.0. In tabulated form you can check through the base tech specs below.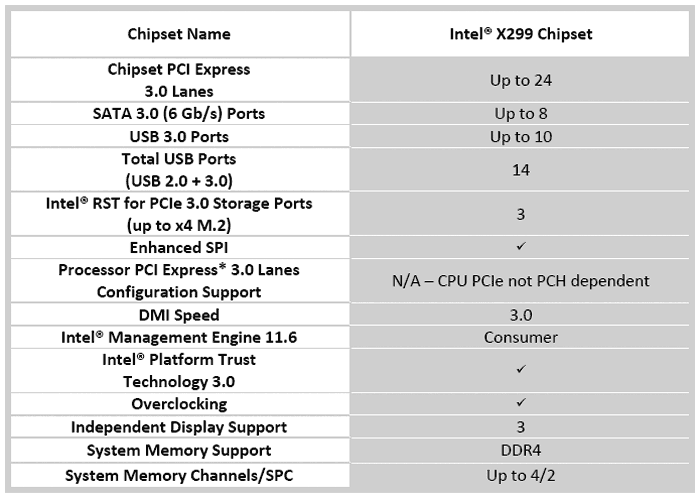 X299 motherboards and systems supporting Intel Core-X Series processors will be available in the coming weeks from Intel partners. Intel will have more announcements at Computex 2017 including shared details of the Intel Compute Card, VR innovations, new devices with Intel processors, and some information regarding the 8th generation Intel Core processors.