People were rather excited to hear about Intel evolving its consumer and enthusiast Core series processors to include a Core i9 range above the current top tier Core i7 processors. The upcoming new top tier processors would range from 6C/12T all the way up to 12C/24T processors under the Skylake-X banner.
Now a bit more information has emerged, if the sources are correct, concerning the Intel Core i9-7900X Skylake X processor. Ukrainian language site Overclockers.ua (via TechPowerUp) spotted this processor in the SiSoft Sandra online benchmarking database, see below.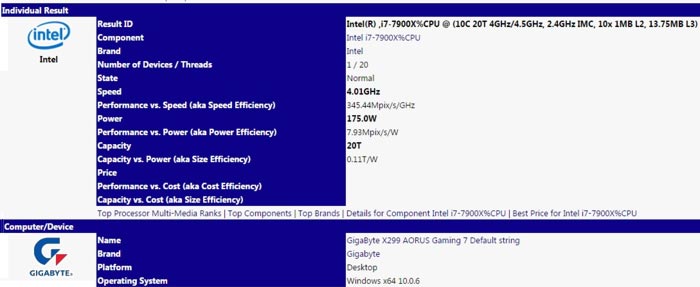 In the database entry SiSoft appears to mistakenly list the processor ID as an "Intel i7-7900X CPU". Sometimes software needs to be updated with new ID references or parameters to get designated names correct. Within the listing you can see other key specifications of this 10 core / 20 thread processor. For example it is said to run at a base clock of 4GHz with Turbo Boost up to 4.5GHz on tap. That kind of deviates from the previous information which outlined the spec as below:

Beyond the above questions about Base and Turbo frequencies there are other clearer-cut specs from the SiSoft Sandra entry. For example it reports the 1MB of L2 cache and 13.75MB of L3 cache in line with the previous leak. A slightly worrying spec not touched upon so far concerns the processor TDP. Previously it was touted as being a 140W processor but it is reported as a 175W CPU by SiSoft Sandra.
In an added bonus nugget of information we can see the motherboard supporting Intel's upcoming Skylake-X processor is a Gigabyte X299 AORUS Gaming 7. Of course the X299 designator is the Intel chipset being introduced to support these new CPUs and platform features.