Over the weekend the Anandtech forums have been throbbing with chat over the spilling of leaked information regarding upcoming LGA 2066 Intel CPUs. A user there has published what is claimed to be a photo of an internal Intel PowerPoint document tabulating the specifications of a quartet of new Skylake-X processors, and a duo of Kaby Lake-X processors. Interestingly the Skylake-X CPUs are said to be the first ever 'Core i9 processors' and there are SKUs with six, eight, 10 and 12 cores - plus Hyperthreading of course.
Without further ado, let's tabulate the 'leaked' specifications as provided by the forum user:
Architecture

C/T

Base Clock

Boost Clock

L3 Cache

PCIe lanes

TDP

Core i9-7920X

Skylake-X

12 / 24

Unknown

Unknown

16.5MB

44

140W

Core i9-7900X

Skylake-X

10 / 20

3.3GHz

4.3GHz (Turbo 2.0)
4.5GHz (Turbo 3.0)

13.75MB

44

140W

Core i9-7820X

Skylake-X

8 / 16

3.6GHz

4.3GHz (Turbo 2.0)
4.5GHz (Turbo 3.0)

11MB

28

140W

Core i9-7800X

Skylake-X

6 / 12

3.5GHz

4.0GHz

8.25MB

28

140W

Core i7-7740K

Kaby Lake-X

4 / 8

4.3GHz

4.5GHz

8MB

16

112W

Core i7-7640K

Kaby Lake-X

4 / 4

4.0GHz

4.2GHz

6MB

16

112W
To the above unconfirmed info there are some things to add. The source says that all the Core i9 chips feature Hyperthreading, and 1MB of dedicated L2 cache, noted to be "4x as much as Core i7-7700K". L3 cache amounts are tabulated above. Interestingly the lowest end Kaby Lake-X processor doesn't seem to support Hyperthreading. Another difference between the processor ranges is that Kaby Lake-X supports Dual DDR4-2666 but Skylake-X supports Quad DDR4-2666.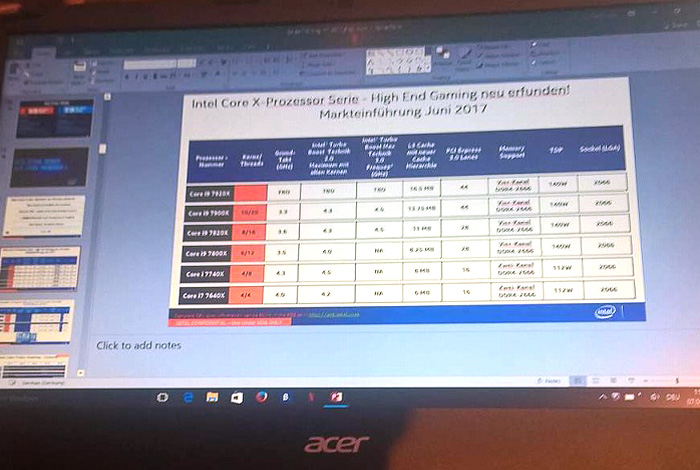 If the PowerPoint presentation is genuine we should expect some kind of launch event in June 2017, as you can read in the heading of the photo. The source indeed asserts that all the tabulated processors will be launched in June, except the top end 12c/24T Core i9-7920X which arrives in August.
These "high end gaming" processors look just the ticket for Intel to square off against AMD's recently launched high core/thread count Ryzen 7 chips. Of course AMD isn't sitting still and will be outlining its own HEDT processors shortly. AMD has confirmed that it is holding a press conference at Computex on 31st May. Intel's close rival hinted heavily at HEDT Ryzen processor launches.
Lastly please remember to add a hearty dose of salt to the above information from unconfirmed sources.