PC enthusiasts and gamers are getting pretty stoked up about the upcoming launch of AMD Ryzen processors, scheduled for 2nd March. Yesterday we looked over a leaked product matrix that contained a full range of 17 AMD Ryzen processors, with 8C/16T R7 chips at the high end through to 4C/4T chips at entry level. Of course pricing is key to how disruptive AMD's launch will be but it looks like Intel is pre-empting some trouble as rumours circulate about it implementing a "last-resort solution that represents a confession of indisputable weakness".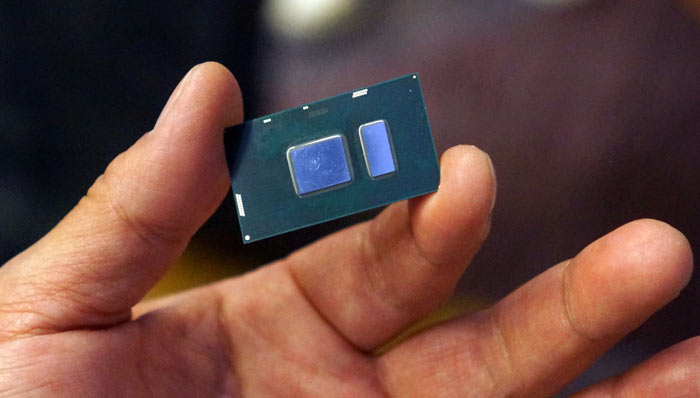 Intel Core i5 with Hyper-Threading?
French computer publication Canard PC is the source of the above quote. Its magazine editors have been informed that Intel is planning to adjust its Kaby Lake prices and introduce new chips to fend off the AMD challenge. For the scale of the price cuts to be seen I guess we will have to wait for AMD to show its hand, however insider sources have indicated to Canard PC that two new unlocked Kaby Lake chips have been designed to help fully answer AMD's new lineup. There will be a new unlocked Core i7 and Core i5 as outlined below, asserts the magazine.
Intel Core i7-7740K: Base frequency of 4.3GHz, Turbo of 4.6GHz. 8MB of L3 cache. TDP of 100W.
Intel Core i5-7640K: Base frequency of 4.0GHz. 6MB of L3 cache. TDP of 100W+. Plus last but not least - Hyper-Threading SMT support.
Above you will note that, if the rumours are correct, this will be the first modern Core i5 to have Hyper-Threading enabled. Indeed, as the source says, this feature is traditionally the dividing line between the i5 and i7 chip ranges. However, Intel has already shown that it is willing to blur boundaries in its seventh generation Core processor range with the unlocked Core i3-7350K and the Hyper-Threading enabled Pentium G4560.
Hyper-Threading on the Intel Core i5-7640K is not confirmed by all Canard PC sources but the magazine promises to clear up the uncertainty by the end of the week when it says one of these unannounced processors will arrive at its labs in France for testing.