Intel held an immersive VR conference at the CES 2017 yesterday evening. Intel CEO Brian Krzanich talked about automated driving, 5G technologies, VR and merged reality technology. He narrated a series of pre-recorded and live VR experiences as 250 people in the audience sat wearing HMDs.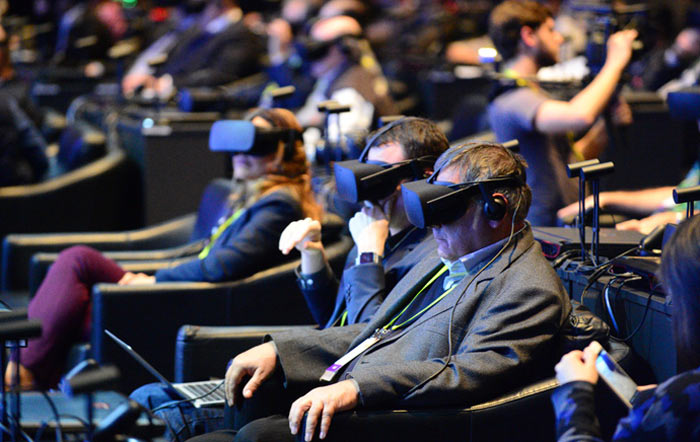 Autonomous Driving and 5G
Intel plans to buy 15 per cent of the Here digital maps and location services business. On the subject of navigation and transport, Intel and Mobileye will work with BMW to prepare a fleet of about 40 autonomous BMW cars. These vehicles will be used to demonstrate the advances in autonomous driving achieved by the partners.
Intel's 5G plans also include automobiles. It introduced Intel GO, a scalable car to cloud system to enhance automated driving. Automakers will be able to implement Intel GO even before 5G networks roll out. Finally, on the topic of 5G, Intel announced the world's first global 5G modem supporting both sub-6GHz bands and mmWave spectrum. This compact, low-power chip kit delivers gigabit speeds and ultra-low latency. It will help 5G connected cars make faster decisions, we were told.
Virtual Reality News Conference
Intel provided its crowd with 360-degree, 4K video streamed video on their HMDs. The crowd all got to watch a live industrial inspection of a 2,000-acre solar power plant in the Moapa River Indian Reservation. Sending the imagery to the Intel conference was a drone loaded with Orah 4i high-definition cameras and a low-power, high-latency computing solution. Krzanich also showcased the first demonstration of a YOKE VR live sports event streamed with Intel's virtual reality technology.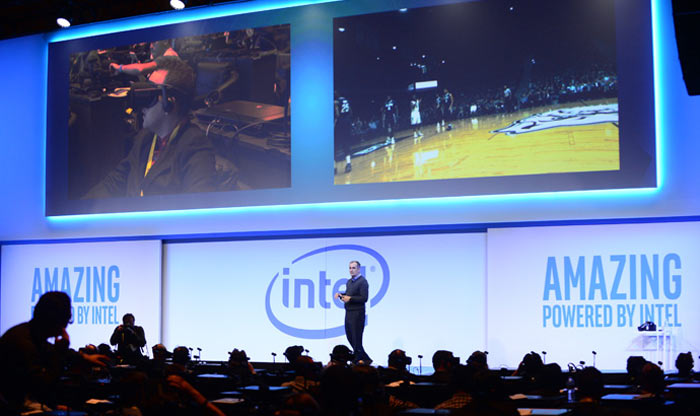 Intel's Project Alloy all-in-one merged reality solution will hit the market via various OEMs from Q4 this year. For content Intel has partnered with HypeVR, a computer vision company focused on developing ultra-high-resolution live action VR capture and playback with six degrees of freedom. Intel's HypeVR tech collaboration enabled a live action VR exploration of the Ban Gioc waterfall, "one of Vietnam's most breathtaking natural sights".
Cannon Lake demo, Moore's Law "flourishing"

Perhaps of most interest to PC enthusiasts was the live on stage demonstration of a Cannon Lake powered PC system. The system utilised one of Intel's 8th generation processors built on the 10nm process. Krzanich introduced the device by saying "for those who are wondering if Moore's Law is alive, is 10 nanometres going to be here, the answer is absolutely yes."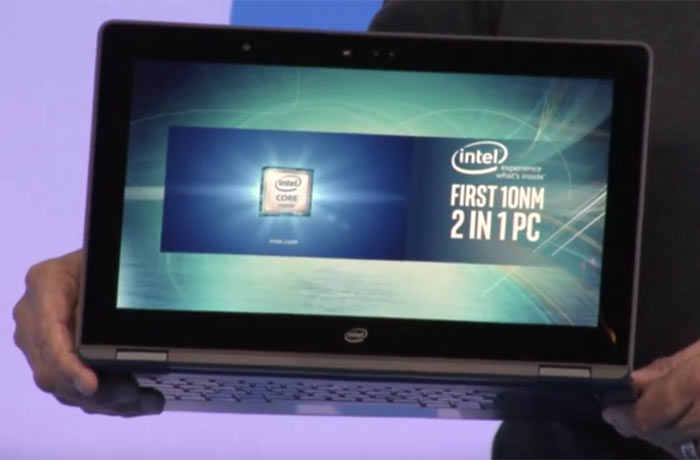 On stage the prototype 2-in-1 PC system was demonstrated running and playing a TV commercial featuring Jim Parsons and Michael Phelps. Intel pledged to begin shipping Cannon Lake chips later this year. Intel has only just released Kaby Lake desktop processors and motherboard chipsets.
Remember, rival Qualcomm launched its 10nm Snapdragon 835 SoC earlier this week, with devices packing the chip expected to ship before H1 is out.