Qualcomm has just officially launched its Snapdragon 835 processor with X16 LTE modem. This brand new 64-bit ARM processor could be a game changer for the industry with its support for Windows 10 plus Win32 apps. Beyond perhaps giving birth to the new form factor of the Cellular PC, this new processor has quite a few other claims to fame.
The Snapdragon 835 processor is the first to be manufactured commercially on the 10nm process and can thus offer breakthrough performance and superior power efficiency, says Qualcomm. This SoC's collection of component parts provide support to what are described as "next-generation entertainment experiences and connected cloud services for premium-tier consumer devices." Thus we can expect to find the processor in upcoming desirable flagship devices such as smartphones, VR/AR head-mounted displays, tablets, and mobile PCs - including the aforementioned Windows 10 devices.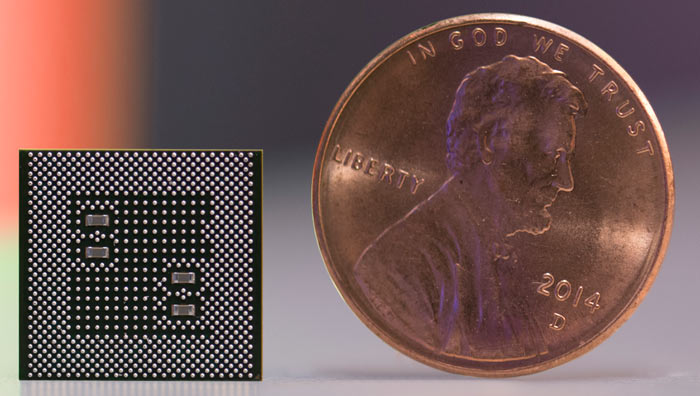 An SoC like the Qualcomm Snapdragon 835 processor consists of many component parts, all important to its overall utility at the heart of your connected device. For clarity I will bullet point the most important of these:
Kryo 280 CPU with four performance cores running at up to 2.45GHz and four efficiency cores running up to 1.9GHz
Adreno 540 GPU with support for OpenGL ES 3.2, full OpenCL 2.0, Vulkan and DX12
Hexagon 682 DSP with HVX
Qualcomm Spectra 180 camera ISP supporting up to 32MP single and 16MP dual-cameras
X16 Gigabit-Class LTE modem, plus 802.11ad Multi-gigabit Wi-Fi, and Bluetooth 5
Qualcomm Aqstic WCD9341 audio codec
Dual-channel LP DDR4x memory at 1866MHz
Qualcomm Haven security platform
Quick Charge 4 technology
Qualcomm points out that the Snapdragon 835 is 35 per cent smaller in package size and consumes 25 per cent less power than its previous generation flagship processor, which equates to longer battery life and thinner designs. Working together, the CPU, GPU, DSP and software framework in the Snapdragon 835 form a very capable heterogeneous compute platform.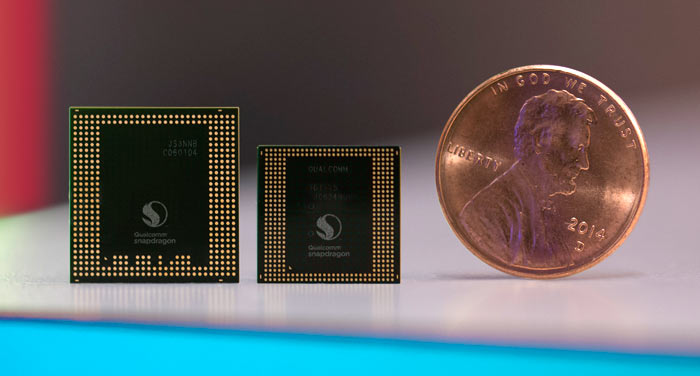 Qualcomm Snapdragon 820, Snapdragon 835, and a 'penny'
Devices shipping with the Qualcomm Snapdragon 835 processor are expected to reach the market before H1 2017 is over. Expect improvements such as 25 per cent faster 3D graphics, improved mobile VR and AR support, greater colour depth standard and higher resolution support, more accurate sensors and motion tracking, faster connectivity, enhanced biometric security, and longer battery life. Qualcomm has promised a lot with the new Snapdragon 835 SoC and I look forward to seeing it delivered.