We still await the official launch of the Kaby Lake desktop processors from Intel. Easing the waiting pain, HEXUS thoroughly tested an early 14nm+ Core i7-7700K sample from Intel early this month. Unfortunately, the improvements evident over Skylake processors left quite a few readers underwhelmed. On a positive note we noted the potential headroom for overclocking thanks to the reworking of the 14nm process. In tests our sample clocked up to 4.85GHz on air, stable and considered suitable for long-term usage.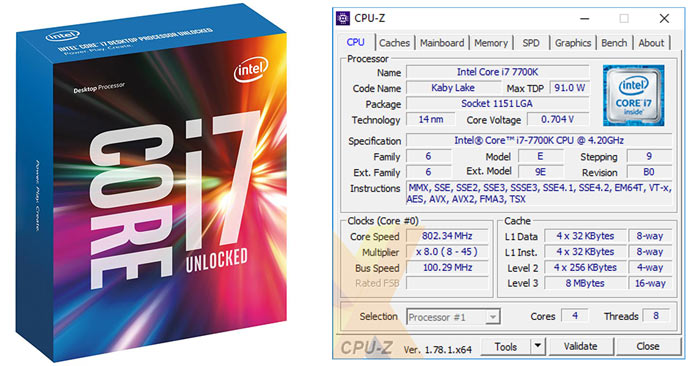 Normality
Enthusiasts with early access have had several weeks of tinker time to push the limits of these 7th generation processors. While HEXUS considers overclocking potential for long term practical usage in your apps and games, OC enthusiasts have no such shackles. Professional OC athlete Allen 'Splave' Golibersuch used common tricks such as disabling cores and hyperthreading, using LN2 cooling, and very high voltages to squeeze the maximum clock speed from the Core i7-7700K sample inhis rig.
7GHz+
As reported by OCLab, via TechPowerUp, Splave achieved a bench-stable 7022.96MHz on his Core i7-7700K sample. To dial up this clock speed the chip's maximum multiplier of 69x was used with a base-clock of 101.78MHz, resulting in the headline 7GHz+. Chip core voltage was tweaked up to 2.00V.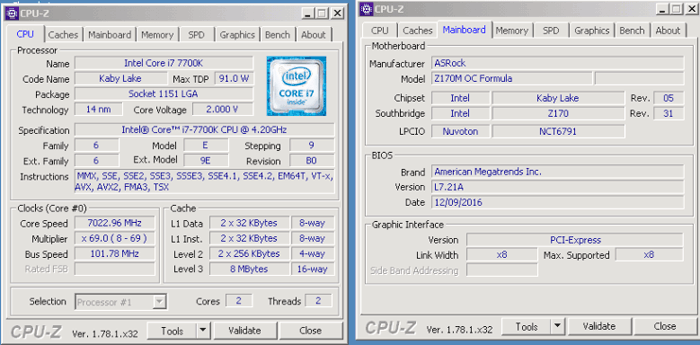 Benchmark results were as follows: it completed the PiFast benchmark in 9.02 seconds, SuperPi 32M in 4 minutes 20.25 seconds, wPrime 32M in 2.953 seconds, and wPrime 1024M in 1 minute 33.171 seconds. Splave equipped an ASUS GeForce GTX 1080 STRIX OC graphics card for further benchmarks and scored 643,316 points in Aquamark, and 86,798 points in 3DMark05.
All OCs and tests were conducted on an ASRock Z170M OC Formula motherboard.