NZXT has launched a new range of RGB illuminated PC system fans. Available in both 120mm and 140mm sizes, the Aer RGB fans feature fluid dynamic bearings, PWM control, and RGB lighting effects a-plenty. To get the best possible light-show from these new fans it's necessary to link them up to NZXT's own HUE+ controller and configure them via the free CAM software.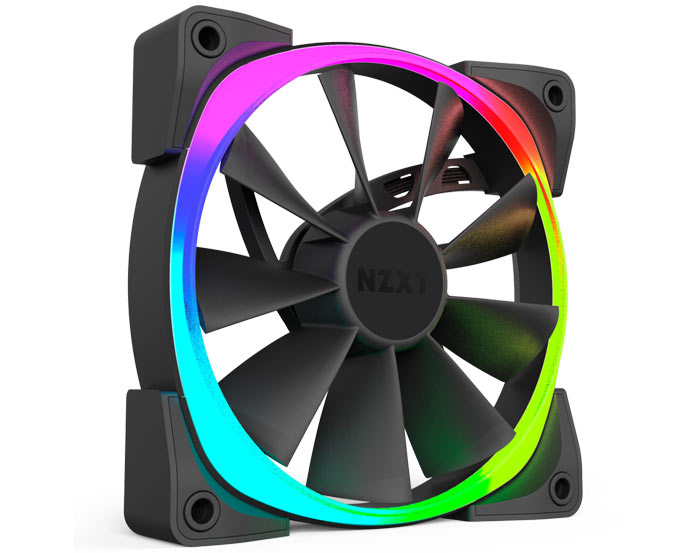 Before we get into the lighting details, let's take a look at the cooling specs of these fans. As mentioned in the intro, the Aer range is available in both 120mm and 140mm sizxes. They use a Fluid Dynamic Bearing (FDB) for reliability and longevity – promised to last over six years. The Aer fans are PWM controlled, to sped up as your system requires, and offer rotation speeds of between 500-1,500 RPM. I've constructed a comparison table for other tech specs:
| | | |
| --- | --- | --- |
| | | |
| Size | 120 x 120 x 26mm | 140 x 140 x 26mm |
| Weight | 183g | 213g |
| Airflow | 20 – 61.4 CFM | 23.9 – 71.6 CFM |
| Air pressure | 0.15 – 1.36mm-H2O | 0.20 – 1.81mm-H2O |
| Fan noise | 22 – 31 dBA | 22 – 33dBA |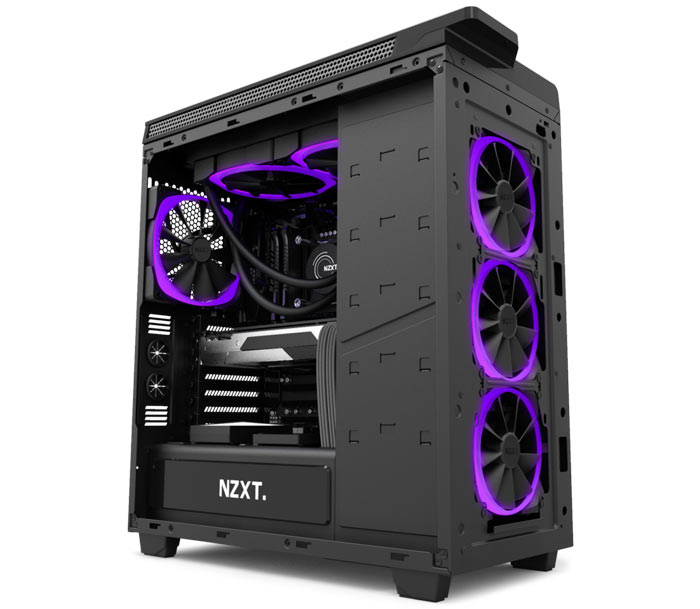 Furthermore, NZXT has implemented its special winglet fan blade tip design to make the fans as efficient and quiet as possible. The fans are said to be easy to install and link together.
RGB lighting
NZXT boasts that the Aer range offers "countless illumination options". Each fan is equipped with 8x LEDs. There's a dozen lighting presets to choose from via HUE+ (RPM, Wings, Fading, Breathing, Spectrum Wave, Pulse etc.) and a fully customisable mode. Daisy chaining fans offers even more lighting options and effects.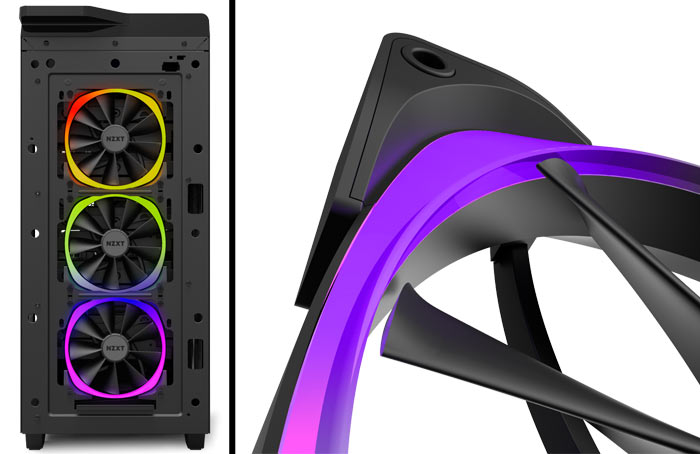 Using HUE+ and the free CAM software you can synchronise Aer fan LEDS and additional LED lighting strips. Via HUE+'s twin channels users can control up to 10 Aer fans. Fans don't have to synchronise as a whole across your system it is possible to create custom groups.
NZXT Aer fans will become available from next month in the US, the EU, and Asia. I have US, UK and Euro prices from NZXT, that pricing info is reproduced below:
Aer RGB120 & HUE+: 2 x Aer RGB120 with HUE+ Controller - $79.99, £74.99 inc VAT, €84,90
Aer RGB140 & HUE+: 2 x Aer RGB140 with HUE+ Controller - $89.99, £89.99 inc VAT, €94,50
Aer RGB120 Triple Pack: 3 x Aer RGB120 - $79.99, £69.99 inc VAT, €79.90
Aer RGB140 Triple Pack: 3 x Aer RGB140 - $89.99, £84.99 inc VAT, €89,90
Aer RGB120 - $29.99, £31.99 inc VAT, €29, 90
Aer RGB140 - $34.99, £39.99 inc VAT, €34,90