Asetek has been granted a patent for its thermal interposer liquid cooling system, designed for cooling graphic processing units (GPUs). The granting of US Patent 8274787 could be of concern to enthusiasts and the competition because of what appears to be the wide scope of application. In other words the patent looks to be not that specific in what it covers, in the way of liquid cooling for GPUs.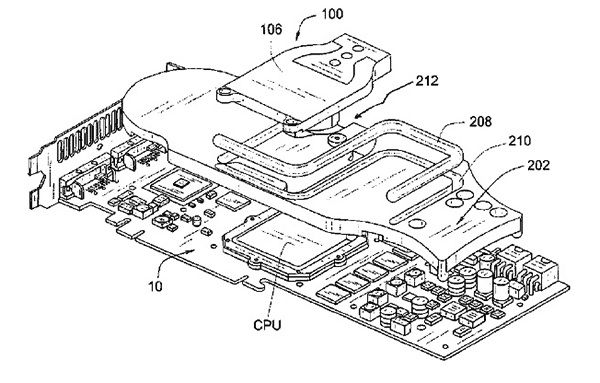 The claim is for the following, in summary:
"A cold plate assembly for a heat-generating electronic component, comprising:
a thermally conducting body configured to be thermally coupled to the heat-generating electronic component such that a first surface of the thermally conducting body is in thermal contact with a surface of the electronic component, and wherein the thermally conducting body comprises at least one of microchannels to pass a cooling liquid therethrough and features configured to improve heat transfer from the thermally conducting body to the cooling liquid; and
a fluid circulation body, comprising an inlet adapted to receive the cooling liquid into the fluid circulation body, and an outlet adapted to discharge the cooling liquid from the fluid circulation body."
An even shorter summary might be, in my understanding: a cold plate which includes channels + a liquid cooling loop.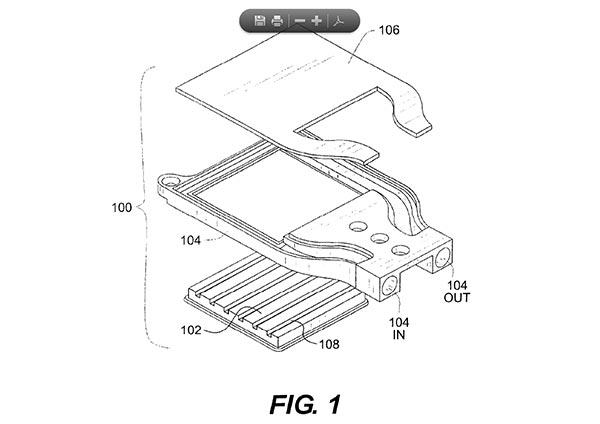 Asetek was in the news recently as it is the supplier of the cooling solution shipped with the reference design of the AMD Radeon R9 295X2 graphics card. In our review for this graphics card HEXUS found it to be a very capable solution in taming both R9 290X-like GPUs.
André Sloth Eriksen, Founder and CEO of Asetek boasted of the R9 295X2 success and is optimistic that the GPU cooling business could be as big for his company as its CPU cooling business has been "We continue to see increasing interest from GPU and graphics card manufacturers due to increased power use and demands for lower acoustics. Given this interest, it is possible that the GPU cooling business could rival our CPU cooling business in the coming years".
In a press release regarding this patent news Asetek also said that it has been developing liquid cooling for GPUs for the last 10 years using its patented sealed all-in-one liquid cooling technology.