With Corsair making a triumphant return to CPU coolers with the introduction of the Hydro Series H50 back in June 2009, we've been expecting the high-end manufacturer to follow-up with a complete line of liquid-cooling kit.
What we weren't expecting, however, is a pair of air-based coolers. Announced at CeBIT 2010 today are the Corsair Cooling Air Series A50 and A70, a pair of "high-performance" CPU coolers that slot in beneath the existing Hydro Series H50.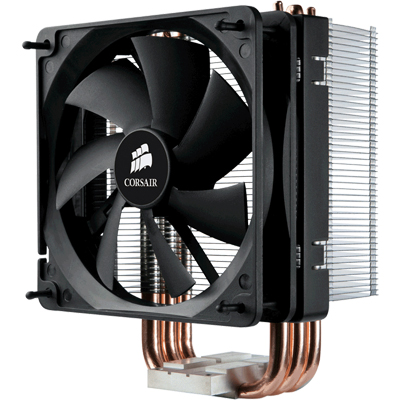 Corsair's Air Series A50, pictured above, claims to be "ideal for PC builders and hobbyists who want to upgrade from stock Intel and AMD coolers". There's no mention of pricing, but the manufacturer's description suggests the A50 will be a low-cost solution.
The cooler features a trio of 8mm copper direct-contact heat pipes, extending into an array of aluminium fins. The heatsink itself measures 159.5mm x 124.6mm x 81.2mm, and comes equipped with a 120mm fan attached via rubber mounts. The fan can be set to run at 1,600RPM or 2,000RPM, creating an air flow of 61CFM at the highest setting and keeping noise levels down to 26dBA at the lowest level.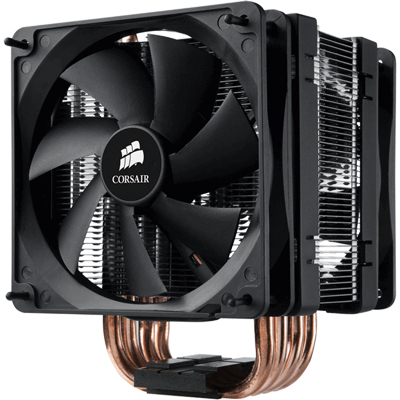 The beefier Air Series A70, meanwhile, doubles up with a duo of 120mm fans - again attached with noise-reducing rubber mounts and offering selectable speeds of 1,600RPM or 2,000RPM - and raises the copper heat pipe count to four, each of which again offers direct contact to the CPU.
Measuring 159.5mm x 124.6mm x 129mm, the A70 is comfortably larger than the A50 but promises to "significantly outperform" either an Intel or AMD stock heatsink.
Both coolers come backed by Corsair's two-year limited warranty and offer support for Intel sockets LGA775, LGA1366 and LGA1156, as well as AMD sockets AM2 and AM3. No word on pricing or availability just yet.