Asetek, the liquid-cooling company that hopes to eradicate high-end air cooling, has announced that its LCLC liquid-cooling solution is available to OEMs for both NVIDIA's GeForce GTX 200 series and AMD's Radeon HD 4000 series.
The cooling solution promises to lower GTX 280 temperatures by up to 27 degrees and HD 4870 temperatures by up to 26 degrees. What's more impressive, however, is that the cooler runs at near-silence and utilises a single-slot design. You won't, therefore, struggle to use the LCLC in SLI or CrossFire setups.
Unfortunately, Asetek's products remain OEM-only, and though we expect to see it turn up in various systems, we won't be seeing it available at retail as a standalone product. We did, however, manage to catch a quick look at the LCLC paired to a duo of GTX 280 cards earlier this month at COMPUTEX: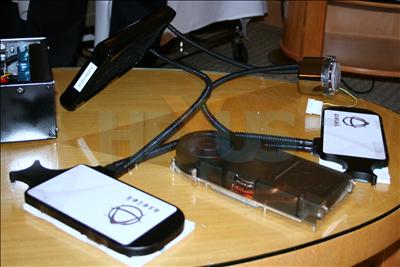 Eagle-eyed readers might notice a little quirk in Asetek's press releases:
ASETEK ANNOUNCES LCLC LIQUID COOLING SOLUTION FOR NVIDIA'S LATEST GEFORCE GTX 200 FAMILY OF GRAPHICS PROCESSORS
ASETEK FIRST WITH LIQUID COOLING SOLUTION FOR AMD'S "HOT" NEW ATI RADEON HD 4870 GRAPHICS PROCESSOR CARDS
We're not entirely sure the Red team will appreciate its card being labelled as "HOT".