Corsair has launched its new iCue QL RGB PWM series of fans. These single/dual/triple fan sets are available in your choice of 120mm or 140mm diameters. Whichever diameter you choose the fans are 25mm thick.
The major selling point for the iCue QL RGB PWM fans, according to Corsair's marketing communications, is that they display "spectacular lighting from any angle". You can enjoy powerful colourful lighting effects from front and/or back (fans in push or pull configuration) and the side view is pretty decent too thanks to mount frame cutaways.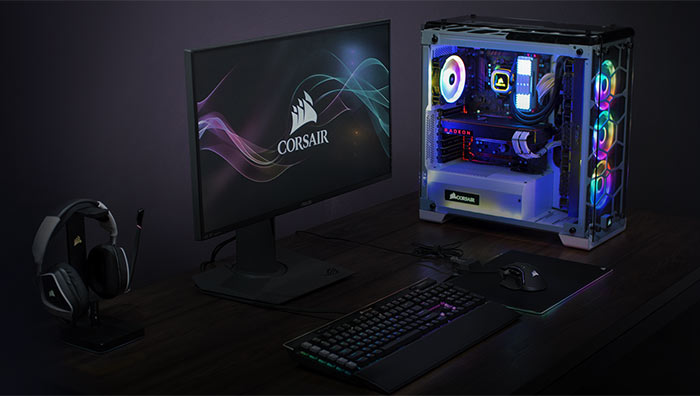 Each iCue QL RGB PWM fan has four lighting zones with 34 LEDs in total. If you install a triple pack, that's 102 individually addressable RGB LEDs at your disposal. It is worth a watch of the video, embedded below, for demonstrations of these brightly and colourfully lit cooling components in action.
To setup your fans and lighting effects you will be able to use the Corsair iCue software with lighting capable of being synced across the whole of your PC system - even syncing with on-screen action in some compatible games.
What about the cooling capability of these fans? Corsair uses its latest semi-transparent low-noise fan blade designs and the noise levels are further kept down with anti-vibration rubber dampers on the corners of all fans. The 120mm and 140mm fans spin at up to 1,500 RPM and 1,250 RPM respectively, with precise PWM control via Corsair iCue or your 4-pin motherboard fan headers. Corsair says that even at full pelt these fans are admirably quiet - both sizes are rated from 18-26dBA through their RPM range.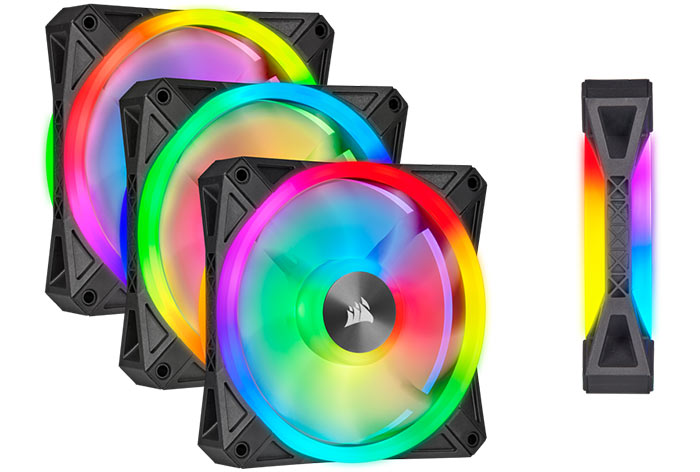 Corsair iCue QL RGB fans are available immediately from the firm's webstore and the worldwide network of authorized retailers and distributors. Kits are available in 3x 120mm and 2x 140mm with bundled iCUE Lighting Node Core RGB Lighting Controller. The lighting controller is claimed to cut down on cable clutter with simple USB 2.0 and SATA connections. Single fans are also purchasable. Buyers receive a two year warranty and the fans are expected to have a MTBF of 40,000 hours.