One of the surprise exhibitors at COMPUTEX '08 is Asetek, the cooling company of Vapochill-fame.
Here in Taiwan, we managed to stumble into Asetek through a touch of fortune- we were actually looking for Antec! Nonetheless, we sat through a 36-slide presentation that made claims of a low-cost, high-performance and high-reliability thermal management solution.
We started off with the usual introduction to the company, Asetek has 11 years of liquid-cooling experience, 45 employees, around 100k liquid-cooling products in the market and does business with four out of six of the world's largest OEMs.
After the sales pitch, we moved onto some rather interesting products. We started with Asetek's existing LCLC (low-cost liquid-cooling) system, pictured below: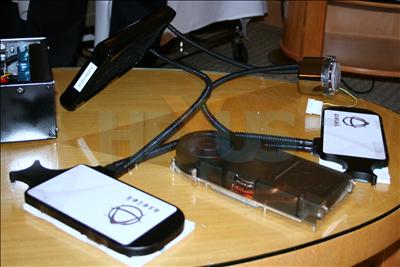 We've seen the LCLC before, but it's still impressive. The CPU cooler is smaller than Intel's reference and uses the same mounting. It operates at 90 per cent lower pressure, is extremely quiet and promises 50k hours of maintenance-free usage.
The low-pressure design enables users to daisy-chain multiple components. In the image above, Asetek has the LCLC chained to two forthcoming SLI-capable cards from NVIDIA - they're wrapped up to prevent us taking pictures, but no prizes for guessing what they are.
The downside, however, is that Asetek's liquid-cooling products are only available to OEMs. The LCLC can be purchased in machines such as Hewlett Packard's Blackbird and Acer's Predator, but can't be found on retail shelves.
Another problem, says Asetek, is that users want smaller systems. It states that we demand high-end CPUs, power-hungry GPUs, and little to no noise in a small-form factor. This, then, is Asetek's answer: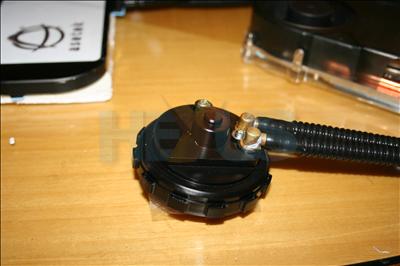 That'll be the low-profile alternative to the LCLC. It doesn't yet have a release date, but it's a prototype that has plenty of potential, we feel. To help demonstrate its ability, Asetek had it crammed into a small Shuttle-style case with a 3GHz Intel quad-core processor. It claims less than 30dB of noise under full load, but we can see why this is an OEM product - there isn't a whole lot of room for consumers to work with.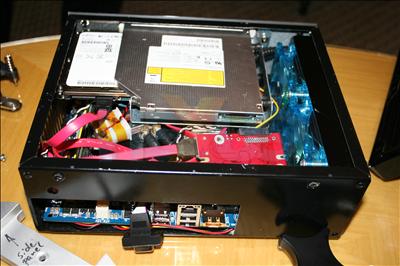 Asetek, it seems, isn't content with stopping at consumer PCs. It detailed plans to provide liquid-cooled data centres, though it admitted to the inherent challenges it'll face in trying to convince mission-critical users to allow any form of liquid near their systems.
Another interesting detail is that Asetek confirmed it had contacted multiple games console manufacturers, with solutions to liquid cool their systems and largely eliminate noise. We're all wishing Microsoft had given the system a whirl on its noisy console, but liquid-cooling would no doubt ramp up the price of the Xbox 360 significantly. Still, wouldn't it be interesting to see a liquid-cooled Xbox 360 Elite?
There's a growing need for improved thermal solutions, and Asetek is betting heavily on liquid cooling. We think it might have a case and we expect to be seeing more Asetek-cooled products in the near future.