A visit to the Arctic Cooling booth at COMPUTEX '08 earlier today provided us with some hands on time with the cooling specialist's highly sought-after, but unavailable, Freezer Xtreme CPU cooler.
The Freezer Xtreme, pictured below, is Arctic Cooling's latest cooling tower to boast "unmatched cooling performance", with a fan hiding in its midst.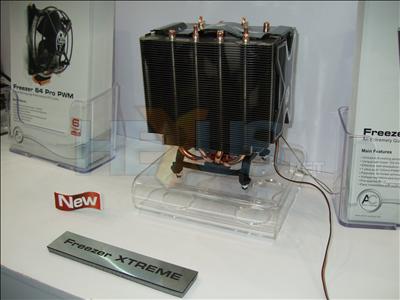 Unclip the little cover along the top - with some difficulty, we might add - and you'll find the ultra-quiet 120mm PWM fan lying between the twin-tower cooling design.
Arctic Cooling claims an impressive heat dissipation of 160 Watts, and provides a six-year warranty for the 102-fin cooler. There are eight heatpipes, and the cooler will support Intel LGA 775 and AMD AM2+, AM2 and 939.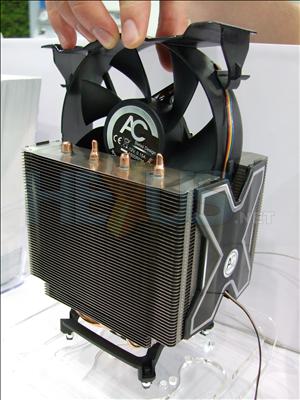 However, this isn't the first time we've seen the cooler on show, and you've all seen it before. Nonetheless, Arctic Cooling now has the design finalised and states we should be seeing it in stores "soon". Though, Arctic Cooling tends not to be the best when it comes to delivering its products on time - don't be surprised to be left waiting a little longer for this one. With an estimated price tag of £25, however, it might just be worth the wait.
Talking about slow-to-market Arctic Cooling products, the four-DIMM cooling Arctic RC was on show once again, and though we liked it at CeBIT earlier this year, we're still waiting for availability on this one too.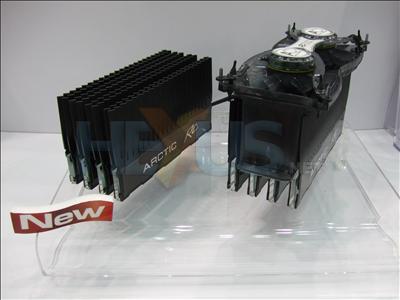 Our thanks to Arctic Cooling's marketing executive, Betsy Leung, for providing a tour of the booth.