PC cooling and peripherals specialist Cryorig has launched a new CPU cooler that will be released next month. The Cryorig H7 Quad Lumi RGB Cooler is an air cooler for your CPU, featuring Cryorig's new QF120 1600 RPM LED fan, four 6mm copper heatpipes, and two RGB LED lighting zones. Cryorig highlights the new device's compatibility with the NZXT CAM control software. Apparently, the RGB LED controller in the cooler was co-developed with NZXT.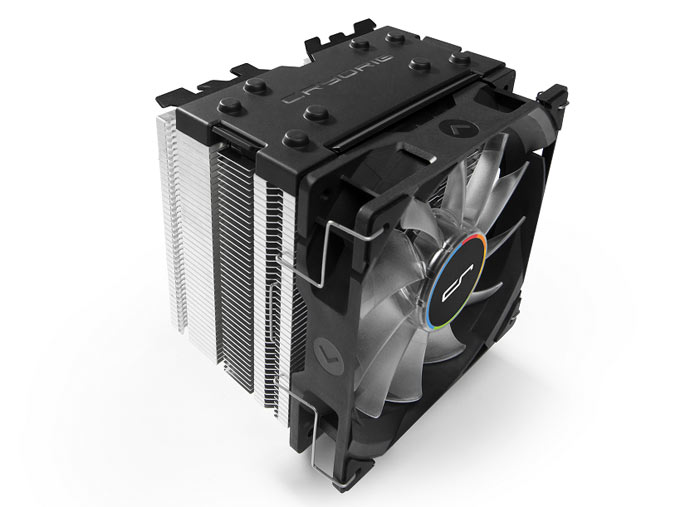 Cryorig says the new H7 Quad Lumi is based upon the previous and successful Cryorig H7. The updates are not all to do with RGB lighting and such frills, as the unit's cooling capability has been increased, as has its mounting flexibility.
Cooling tech
The new H7 Quad Lumi improved upon the original H7 with a new heatpipe system based upon four copper heatpipes of 6mm in diameter. Cryorig says these copper pipes improve heat dissipation by "at least 15 per cent over the H7," boosting the support of this cooler to cover 160W+ TDP CPUs. As with the previous model a pure copper nickel plated base is equipped.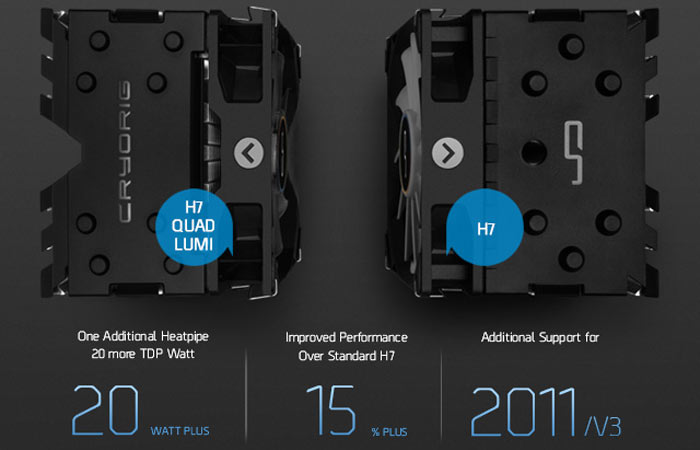 Another practical change concerns the fan. Cryorig has fitted a new design 120mm fan capable of 1600RPM. This QF120 LED 1600 RPM PWM fan pushes air at 49CFM, spins between 330 - 1600RPM, and generates noise of 10 - 25dBA. It's housed in a quad-inlet air system equipped with rubber acoustic absorbers. Cryorig boasts of a new Quick Mount system making fitting a cinch, even on the newest Intel and AMD sockets.
RGB lighting tech
RGB LED lights and their control are a big new addition for this cooler model. The fan LED appears to be a standard mono white light one. However, equipped in the cooler block are independent Logo and Underglow RGB LEDs. These RGB LEDs are controllable via NZXT CAM software as they are based upon an NZXT Hue+ controller board. Nine different RGB LED effects are available at launch with more to come. Having independent LEDs means that the Logo and Underglow colours and effects can be different, if you so desire.

NZXT's CAM software doesn't just let you fiddle with the lighting, it's useful for CPU temp monitoring, fan RPM control and profile setting adjustment and more.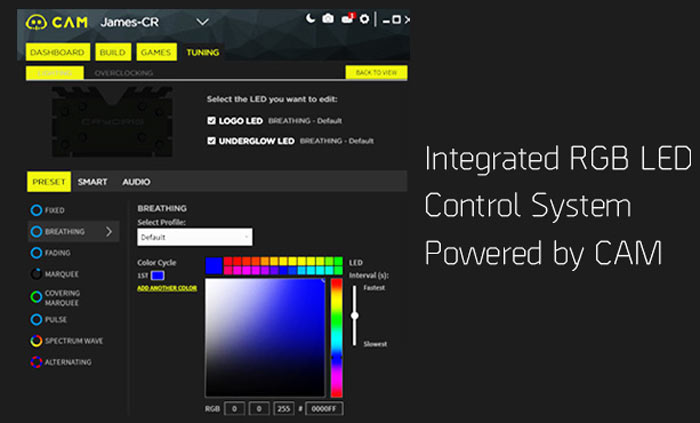 The Cryorig H7 Quad Lumi will be released worldwide in June, with a MSRP of USD $59.99 (without sales tax) and €59.99 (including VAT) in Europe. This cooler has been a long time coming as it was originally shown off at Computex 2016 with an estimated Xmas release window.
Heatsink Specification

QF120 LED Fan Specification

Dimension ( with fan ): L98 mm x W123 mm x H145 mm

Weight ( with fan ): 728 g

Weight ( without fan ): 594 g

Heat pipes: 6mm heatpipe x 4 units

Copper Base: C1100 Pure copper nickel plated

RAM Tolerance Height: Limitless

TDP: 150 W+

Connections: PWM and Internal USB 2.0

Software: NZXT CAM

Added Software Download is required for LED lighting control.

Dimensions: L120 mm x W120 mm x H 25.4 mm

Weight: 128 g

RPM: 330 ~ 1600 RPM ±10 %

Noise: 10 ~ 25 dBA

Airflow: 49 CFM

Air Pressure: 1.65 mmH2O

Ampere: 0.25 A