EVGA has released a pair of new closed loop all-in-one liquid CPU coolers. The EVGA CLC 120 and 280 are 120mm radiator (single 120mm fan) and 280mm radiator (dual 140mm fans) components respectively. These easy to install AiO liquid coolers are said to offer "incredible performance, low noise, robust software controls and RGB lighting".

Behind these new AiO coolers' claimed performance are a number of tech tweaks. EVGA says that the cooling block has been designed to offer an "improved flow rate and heat transfer surface area," which as you will know, are good for cooling efficiency. Furthermore, new design fans with "curved housings… unique blade design… and Teflon Nano Bearings," are equipped in the radiators.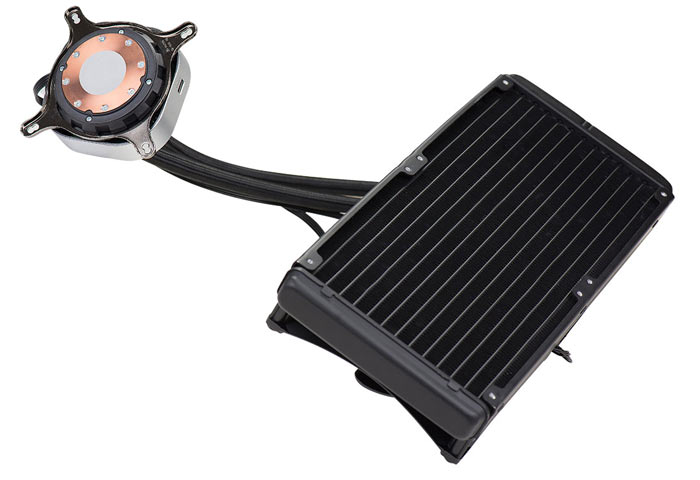 If you are intro your RGB lighting effects, and already have an RGB LED EVGA graphics card, the lighting synchronisation between this AiO cooler and your GTX card could appeal. Depending upon your graphics card model you will be able to link and match the two components lighting effects with "one button" profile switching.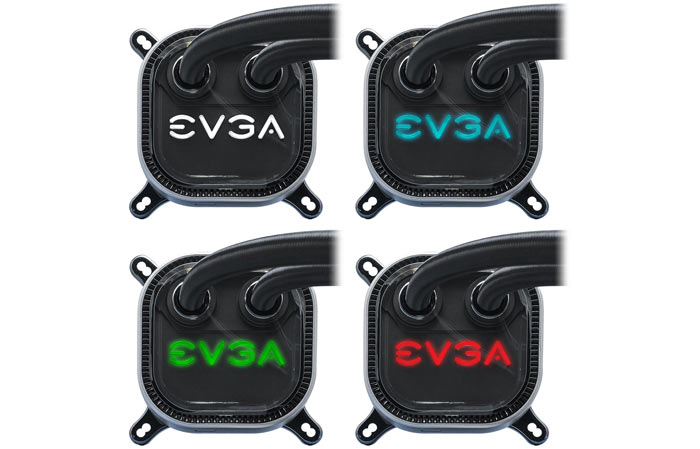 Though EVGA already has these coolers up for sale there are a couple of goodies that aren't quite ready yet but are "coming soon". First of all EVGA has flow control software in the pipeline to allow users software control of fan speed/curve, RGB lighting, Pump Control, Profiles and more. Your adjusted settings will be saved to firmware so you can set-and-forget. Secondly, EVGA will offer all buyers a free AM4 bracket if required, at a later date.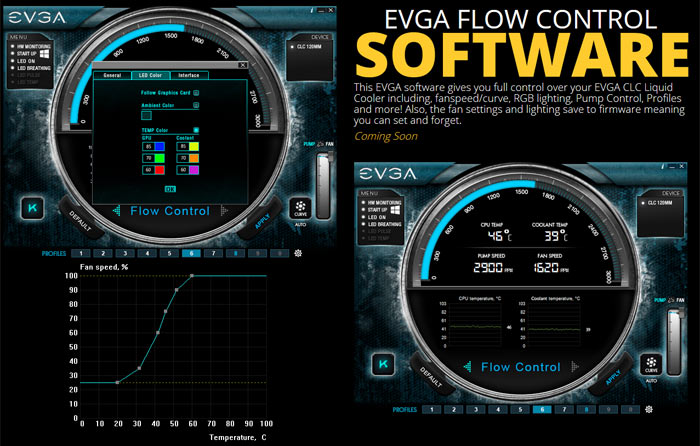 You can buy the EVGA CLC 120 and CLC 280 closed loop CPU coolers now, priced at $89.99 and $129.99 respectively. A five year warranty is provided.
Common specifications:
All-in-one cooling solution that is completely self-contained. No filling, no custom tubing, no maintenance. Just plug and play.
Intelligent wiring system and sleeved tubing makes this one sleek cooler without the messy wires.
Copper base provides maximum heat transfer.
Teflon Nano Bearing in the fan reduces noise and increase lifespan, while the curved housing improves air flow through the radiator to limit vibration and noise.
Variable controlled fan allow dynamic fan speed based on CPU temperature, and the water cooling efficiency means the fans can operate at a lower speed to reduce noise.
100 per cent copper water block
Fully controllable RGB LED on water block
Water block Noise Level = 20dB(A) (MAX)
Compatible with current and future Intel and AMD sockets.
EVGA CLC 120

EVGA CLC 280

Built in 120mm radiator and 120mm fan helps dissipate the heat keeping the GPU as cool as possible. Fan can also be swapped or customized.
Radiator size: 156mm X 122mm X 28mm (LxWxH)
Fan Size: 120 x 120 x 25mm
Teflon Nano Bearing
Speed = 500-2400RPM
Airflow = 74.82 CFM (MAX)
Static Pressure = 4.04 mmAq (MAX)
Noise Level = 16.0 dB(A) (MIN) – 39.9 dB(A) (MAX)

Built in 280mm radiator and 2x 140mm fans help dissipate the heat keeping the CPU as cool as possible. Fan can also be swapped or customized.
Radiator size: 312mm X 139mm X 27mm (LxWxH)
Fan Size: 140 x 140 x 25mm (x2)
Teflon Nano Bearing
Speed = 600-2200RPM
Airflow = 113.50 CFM (MAX)
Static Pressure = 4.20 mmAq (MAX)
Noise Level = 16.0 dB(A) (MIN) – 39.5 dB(A) (MAX)
Lifespan = 80,000 Hours