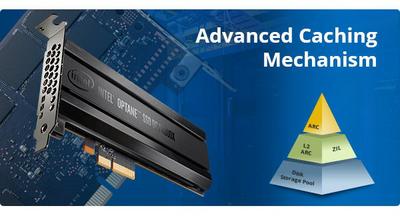 Open-E JovianDSS is a ZFS- and Linux-based Data Storage Software designed for businesses of any size, especially for Enterprise Software Defined Storage environments.
Open-E in cooperation with Intel has performed tests of Intel® Optane™ SSDs used for caching purposes in Open-E JovianDSS data storage appliance. Additionally, all the tests were repeated with NAND-based SSDs for comparison.
Intel® Optane™ SSDs are based on the 3D XPoint technology which is capable of providing significantly better access times and transfers compared to typical NAND-based flash memories. The main advantage of 3D XPoint lies in the fact that addressing of read/write operations is done on single cells instead of whole blocks.
INTEL® OPTANE™ FOR CACHING PURPOSES
After conducting a series of tests, the following advantages of using Intel® Optane™ for Open-E JovianDSS caching were discovered:
• High and consistent write IOPS
• Low and stable latency
• High Quality of Service (QoS)
• Protection of capacity storage tier
• Cost-effective RAM cache replacement
• Very high endurance of Intel® Optane™
Thanks to the benefits listed above, the ZFS-based Open-E JovianDSS together with Intel® Optane™ SSDs is an excellent choice when it comes to data storage solutions.