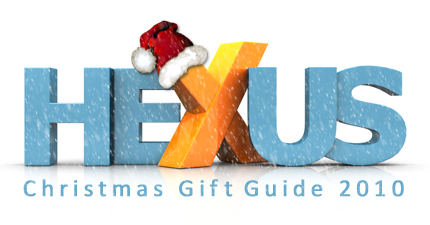 It's that time of year again. The HEXUS editorial team recently attempted a bout of Christmas shopping at Birmingham's Bullring, and the massive crowds coupled with the coldest November temperatures since 1985 have convinced us to realise an obvious truth; it's easier, warmer and more convenient to get your shopping done online.
To that end, the team has put heads together and come up with a series of 10 technology gift guides that we hope will help take the guesswork out of your 2010 Christmas shop. Over the next fortnight, we'll be suggesting a wide range of gear that we ourselves wouldn't mind finding under the tree come December 25th.
The clock is ticking, and with only 15 days left until Christmas, we're ending the week with a look at a variety of gaming options - there's something for the kids, something a little more grown up, and one that's ideal for all the family.
Handheld Gaming
Nintendo DSi XL

There hasn't been a variation of the Nintendo DS that we haven't loved, and the DSi XL is no exception.

Designed to be bigger and better than the DSi in every way, the 2010 "XL" model features larger 4.2in displays, bigger speakers, a better stylus and greater battery life. It's no longer quite as portable (we have trouble fitting it in our pockets), but it's a joy to use and it's fully compatible with Nintendo's excellent catalogue of DS games.

Worth upgrading from the previous DSi? That's questionable, but if you've never owned a DS at all, the DSi XL is the one to get.

Price: from £139.99 at amazon.co.uk
Nintendo DS: what to play
Professor Layton and the Lost Future

If there's a genre at which the Nintendo DS excels, it's puzzle games, and one of the very best is the Professor Layton series. The latest release intertwines puzzles and riddles with a fun selection of mini games and an intriguing storyline. A must-have for any DS gamer.

Price: £25 at amazon.co.uk

Mario Kart DS

It might be one of the oldest Nintendo DS games available, but if you're new to the handheld console, it's still one of the very best. High-octane racing, multiplayer thrills, and all the characters you've come to love over the years. Watch out for those blue shells.

Price: £21.89 at amazon.co.uk

Picross 3D

Prefer something a little more subtle? Picross may seem a little slow at first glance, but it's three-dimensional riddles will soon leave you scratching your head. There are plenty of puzzles to crack, and once you you're done, you can download more over a Wi-Fi connection.

Price: £23.91 at amazon.co.uk
Mobile Gaming
Dell Alienware M11x

If you're a fan of strategy, you probably prefer to get your gaming kicks on the PC. But not all gaming PCs need to be confined to a single room. Dell's ultra-portable Alienware M11x notebook is one of the world's most powerful 11.6in systems and can be configured with a choice of Intel Core 2010 processors and NVIDIA GeForce GT 335M graphics.

The M11x is an excellent performer, solidly built, designed to look like a gaming rig from the future, and thanks to NVIDIA Optimus technology, battery life isn't bad either.

Price: from £619 at dell.co.uk
PC Gaming: what to play
StarCraft II: Wings of Liberty

When it comes to real-time-strategy games, it's hard to beat StarCraft. Not quite impossible, though, as 2010's long-awaited sequel - Wings of Liberty - improves on the original with an excellent campaign mode, incredible cut scenes and a multiplayer experience that never seems to grow old.

Price: £34.99 at amazon.co.uk

Sid Meier's Civilisation V

Sid Meier's Civilization has been occupying the time of strategy gamers since 1991, and the series is still as popular as ever. The latest release - Civilization V - features a new game engine and a number of tweaks that make the gameplay experience more accessible to newcomers. It's still highly addictive.

Price: £24.91 at amazon.co.uk

Football Manager 2011

Ancelloti, Ferguson and Wenger are all having ups and downs this season, but if you think you can do better, try your hand at management in Football Manager 2011. The new release has more depth than ever, and once it's myriad of features has sucked you in, you won't find yourself playing anything else.

Price: £17.97 at amazon.co.uk
Fun For The Living Room


Microsoft Xbox 360

With prices starting at under £150, Microsoft's Xbox 360 continues to be the games console that offers arguably the best mix of games, online experiences and value. There's now an exceptional catalogue of titles to choose from, and the 2010 model - available in 4GB or 250GB flavours - is smaller, quieter and cooler than the original design.

The subscription-based Xbox Live service continues to offer one of the best online gaming experiences available, and the console has grown to include a variety of entertainment services. Facebook, Twitter, Zune and Sky TV are now all available from this little black box of joy.

Price: from £149.99 at currys.co.uk
Kinect for Xbox 360

Kinect is one of the hottest new releases for Christmas 2010, and it vows to turn you, the gamer, into the controller. Using a camera and depth-sensor technology, this slim Xbox 360 peripheral will track gamers in its point of view and allow them to control the console and play games by simply moving their hands and body. Kinect's full potential is still to be realised, but at this early stage, it's already a whole lot of fun.

Price: £127 at amazon.co.uk
Xbox 360: what to play
Call of Duty: Black Ops

Choosing a couple of Xbox 360 titles for your Christmas stocking is tough. Real tough. We'll start with Call of Duty: Black Ops. The latest game in the series is far from revolutionary, but this evolutionary title continues to offer one of the best multiplayer experiences available. No wonder it's currently the most popular game on Xbox Live.

Price: £39.99 at amazon.co.uk

Mass Effect 2

Mass Effect 2 is more than just a videogame. It's a sci-fi entertainment experience, a cinematic showcase and an epic novel rolled into one. It's one of our favourite games of the year, and arguably one of the best Xbox 360 titles to date. The best bit? Shop around and you'll find that it's now available for less than £15 from most major gaming outlets.

Price: £13.76 at amazon.co.uk

Dance Central (for Kinect)

If you've opted to go the controller-free route with Kinect for Xbox 360, be sure to pick up Dance Central. Developed by Harmonix, this motion-tracking dance game is the most fun we've had on a console for a while. The tracklist won't appeal to everyone, but trying to keep up with the moves represents fun for all the family.

Price: £32.60 at amazon.co.uk
HEXUS Christmas Gift Guides 2010