While mid-range and low-end motherboards are now geared almost exclusively towards chips that integrate the CPU and graphics - AMD's Llano and Intel's Sandy Bridge - the genuinely premium end of the market continues to rely on using CPU-only processors. The message is quite clear in the space: you need to buy a discrete card if you want a powerful PC.
AMD's busy summer starts with the release of a core logic primed for the enthusiast. The 990FX, due to replace incumbent 890FX, will represent the firm's premier chipset for 2011. Moving down the catalogue, AMD will also introduce 990X and 970 chipsets.
990FX is notable insofar as it supports the AM3+ socket, and this is exciting because only it officially provides a home to the soon-to-be-released Bulldozer processor. More precisely, AM3+ supports the (up to) eight-core desktop variant of Bulldozer, known as Zambezi, which is designed to compete against the very best chips from Intel. Zambezi processors and the 990FX chipset will be known as the Scorpius platform.
The need for upgrading the existing AM3 chipset rests with the additional power circuitry and associated frequency management of the Zambezi chip. But AM3+ is also backwards compatible AM3 CPUs, meaning it becomes a viable purchase for a fairly wide range of existing AMD customers.
Other than the obvious support for the powerful Zambezi CPU, 990FX's topology is largely identical to 890FX's. This equates to a two-chip solution with a total of 42 PCIe lanes, of which 32 are used for graphics in numerous GPU configurations - including two cards at x16, x16 or four cards at x8, x8, x8, x8. The remainder are arranged as a x4 slot and a further six are dedicated to running PCIe x1 components.
We say largely similar because 990FX has a trick up its sleeve. NVIDIA sees the merit of the upcoming Zambezi chip and reckons it's high time that it licensed SLI technology on select 900-series boards. Yup, that's SLI on an AMD chipset, and the same lane configuration is available for both AMD and NVIDIA cards.
In a nutshell, then, 990FX provides official support for the upcoming Zambezi (Bulldozer) core and, depending upon manufacturer, multi-GPU SLI usage, too.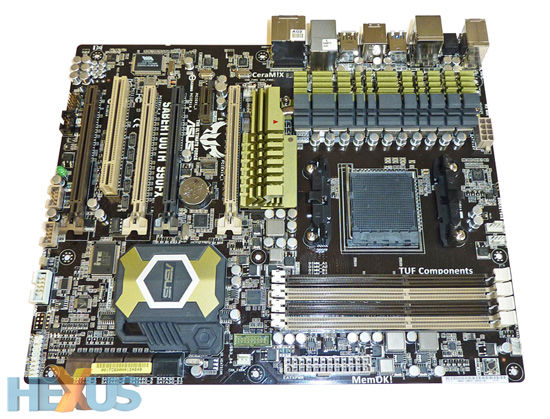 Going by recent history, ASUS is sure to have numerous boards based around 990FX - differentiated by families such as Crosshair or TUF. Speaking of the latter, we were provided with a Sabertooth 990FX TUF for preview.
Presented in understated livery, this TUF is all about cooling and longevity, according to ASUS. The large, chunky heatsinks have a heatpipe running through them. Build quality is very good and ASUS has enough belief in TUF to provide a (limited) five-year warranty on this board.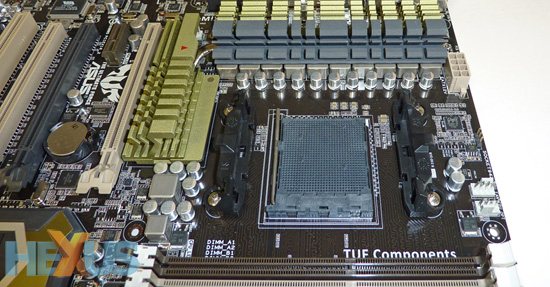 Like most recent high-end ASUS boards, the AM3+ socket is lined towards the IO ports on the rear. Installing a regular cooler is easy due to the mounting brackets on each side, though they no longer completely envelop the socket. Sensibly there are three four-pin fan-headers in close proximity to the chip. Two additional four-pin and a three-pin header are available further down the board.
The enthusiast nature of the board is revealed with an 8+2 digital power-phase design, which is shared by the largely equivalent Crosshair V version of this chipset. ASUS packs in the usual raft of hardware-based power-saving and overclocking tech, as you would expect.
Bulldozer/Zambezi keeps the dual-channel memory setup of previous chips. The TUF provides official support for modules at speeds up to 1,866MHz, which the enthusiast will able to increase via hands-on overclocking in the UEFI BIOS.

990FX's southbridge gets a nomenclature bump to SB950 (890FX has SB850) though we're struggling to differentiate the two on pure technical merit. SB950 provides 14 USB 2.0, six SATA 6Gb/s ports, two SATA 3Gb/s, HD audio, and RAID0,1,5,10 flavours. ASUS forgoes AMD's SATA 3Gb/s ports and uses a JMicron controller, instead.
Perhaps conspicuous by its absence is chipset-integrated USB 3.0, but ASUS makes up for it by adding four ports through third-party controllers. FireWire and eSATA (powered and unpowered) are supported, too.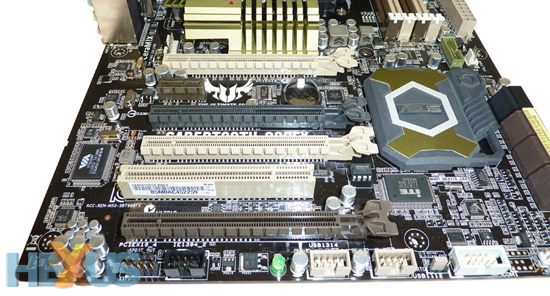 The final PCIe 3.0 specification was published six months ago. AMD/ASUS, though, continues with PCIe 2.0, further highlighting the similarities between the 990FX and 890FX. Four mechanical x16 slots dominate the lower portion of the TUF board. Install one or two cards - and, remember, they can be either NVIDIA or AMD in multi-GPU guise - and the board provides full-bandwidth x16 transfers. ASUS recommends you use the white-coloured slots with two or fewer cards.
Add a third and the setup moves to x16/x8/x8. Interestingly, ASUS advocates against using the black-coloured slot for graphics, leaving it spare for additional PCIe connectivity. This makes sense as doing so leaves decent gaps between slots and cards. The nature of the low-profile SB950 heatsink ensures that longer cards don't interfere with any of the board's functions.

An eclectic array of ports greets you on the rear. ASUS manages to fit 12 USB ports on the rear, of which two are USB 3.0. Realtek's decent ALC892 codec enables the streaming of Dolby TrueHD and DTS HD but the optical S/PDIF doesn't have enough bandwidth to carry it.
Summary
ASUS's Sabertooth 990FX TUF motherboard is the first hands-on look we've had at AMD's new Zambezi-supporting chipset. Save for the obvious support of the next-gen processor, there's not a whole heap of new technology here; it's largely carried over from the 890FX, so ASUS gives it the TUF makeover.
The TUF board, while well-featured, gives up on the plethora of features found on other high-end boards. Rather, the focus appears to be on stability and overclocking. Looking reasonably good at the outset, we wait for a Zambezi processor so that we can really stretch the new chipset's legs.