Been an interesting couple of years for portable computing, hasn't it?
Many of us felt that netbooks were too timid in their approach in late 2007, but the cheap-and-somewhat-cheerful systems have gone on to sell millions the world over. Affordable pricing has helped maintain netbook popularity, but the low-cost system is now up against thriving tablet computers.
Led by the iPad - which was once ridiculed as just a large iPod - tablets have soared to popularity and are certain to be hot property this Christmas. But they too won't be alone, as Ultrabooks that promise to bridge the gap between tablet portability and notebook productivity have arrived to stake their claim for mobile computing supremacy.
And, let's not forget, there's still the traditional notebook to consider.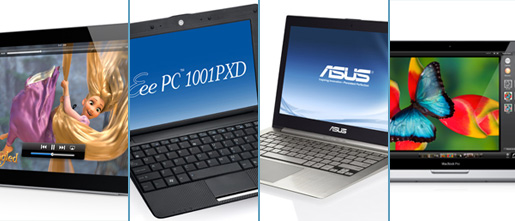 The choices are greater than ever, and tablets, netbooks, notebooks and ultrabooks each have their strong points, but which stands out to you? And as a consumer, which are you most likely to consider in 2012?
Tried a tablet but unable to make do with a cut-down operating system? Still love your netbook? High hopes for the Ultrabook? Or are you unwilling to accept anything less than a fully-fledged notebook? Share your thoughts, vent your frustrations and join the discussion in the HEXUS forum.